Home page Description:
UHN researchers win big with three prestigious awards from the Canadian Cancer Society (CCS).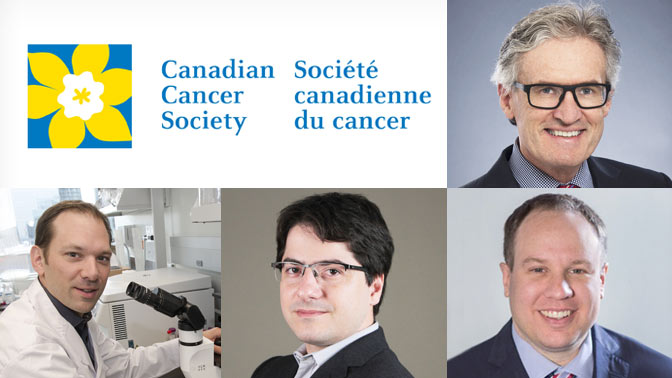 Announced on Mar 10, 2017
UHN researchers were awarded three of the four top CCS awards for excellence in cancer research.
 
In their announcement made on March 8, 2017, the CCS stated, "These individuals have made rich and meaningful contributions, whether in advancing biomedical cancer research or conducting research that has made a major impact in cancer control in Canada."  The awards honour the strong contributions made at UHN towards advancing cancer radiotherapy, clinical genomics, immunotherapy and epigenetics.
 
The O. Harold Warwick Prize was presented to Dr. Brian O'Sullivan for his contributions to cancer control in Canada. With a focus on head and neck cancer, his research program has advanced the delivery of radiotherapy using image-guided and molecular targeting—findings that he has also helped to translate into potential therapeutic approaches to help patients. Dr. O'Sullivan's appointments include membership on the PM Cancer Centre's Cancer Clinical Research Unit (CCRU); Professor, Radiation Oncology, University of Toronto; and Radiation Oncology Chair, Head and Neck Steering Committee, US National Cancer Institute.
 
The William E. Rawls Prize was awarded to Dr. Philippe Bedard as an outstanding young investigator that has made contributions to cancer control research. Dr. Bedard's research focus is on the clinical application of genomics research towards customizing and improving therapies for cancer, with an emphasis on breast and prostate cancers. He has also led a number of large scale clinical trials that aim to help tailor cancer therapies to individual patients. At PM Cancer Centre, he is a CCRU member and serves as the Clinical Director of the Cancer Genomics Program. At the University of Toronto, he is an Assistant Professor in the Department of Medicine. ​
 
The Bernard and Francine Dorval Prize will go to Drs. Daniel De Carvalho and Mathieu Lupien for their contributions to basic biomedical research, findings that are improving our understanding of cancer treatments. Drs. De Carvalho and Lupien were co-awarded this prize for their research into the genetics and epigenetics of cancer. As emerging leaders in their fields, they have excelled at forging new collaborations, mentoring students and making impressive research contributions. For example, Dr. De Carvalho recently identified a new mechanism called 'viral mimicry', through which an epigenetic-based drug attacks colorectal cancer cells. Dr. Lupien's contributions include landmark insights into 'non-coding' regions of the genome—those regions that are not used by the cell to make proteins—and their role in cancer initiation and progression.
 
To learn more about the 2017 awards and awardees, visit the CCS website.