Home page Description:
Concentrating high-risk cancer surgeries in designated hospital shortens hospital stays.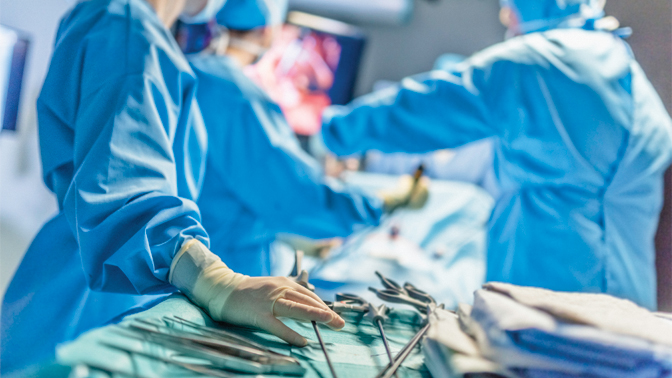 Announced on Oct 4, 2017
Although surgery offers the best chance at cure for several cancers, the surgery itself can be risky. Surgeries to treat some cancers—such as those affecting the lung, pancreas, colon, esophagus and liver—are complex, typically result in long hospital stays and can lead to serious complications including death.

Hospitals that perform these risky surgeries in high volumes tend to have better outcomes—such as lower surgical mortality rates and shorter lengths of stay in the hospital after surgery.  Several small studies suggest that implementing a health care policy known as regionalization, which requires high-risk surgeries to be provided in hospitals that historically perform a high number of these procedures, may lead to better outcomes.

In an attempt to improve surgical outcomes in Ontario, a new policy was implemented in 2007 to regionalize lung cancer surgeries. The policy required all lung cancer surgeries to be performed in 14 designated hospitals across Ontario.

TGHRI Senior Scientist Dr. David Urbach recently published a study examining the effect of Ontario's new policy on outcomes in lung cancer surgeries.  This study is the largest of its kind as it examined the effect of regionalization across a large geographic area with a population of 14 million.

For the study, the researchers extracted patient information from provincial administrative databases and compared outcomes before and after regionalization in 2007. After regionalization, they observed a 7% annual decrease in the length of hospital stay after surgery and an overall decrease of 1.2% in the surgical mortality rate. However, they showed that the small drop in mortality rate was due to a preexisting trend and not to the policy itself. They also found that regionalization particularly benefited elderly patients:  it decreased the length of their hospital stay and their surgical mortality rates.

"Our findings suggest that regionalization of lung cancer surgical care led to benefits for all patients, especially elderly patients. However, the benefits of regionalization on surgical mortality rates may not be as great as suggested by smaller studies," says Dr. Urbach.

This work was supported by the Ontario Institute for Cancer Research and Cancer Care Ontario through funding provide by the Government of Ontario. It was also supported by Ontario's Ministry of Health and Long-Term Care and the Toronto General & Western Hospital Foundation.

Bendzsak AM, Baxter NN, Darling GE, Austin PC, Urbach DR. Regionalization and Outcomes of Lung Cancer Surgery in Ontario, Canada. J Clin Oncol. 2017 Aug 20. doi: 10.1200/JCO.2016.69.8076.