Home page Description:
Determining death by absence of circulation found to increase organ donation in Ontario.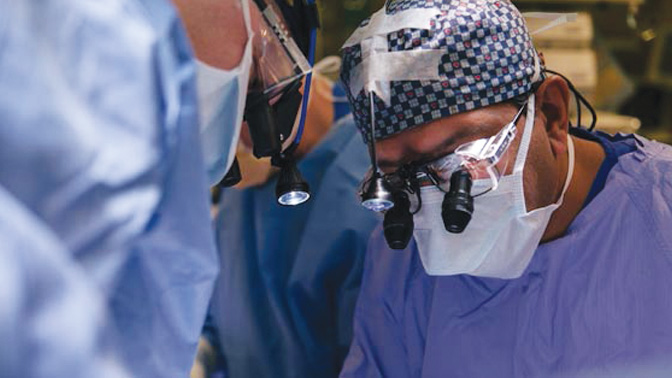 Announced on Oct 6, 2017
Adopting a Canadian policy of determining death by the absence of circulation has increased donation by 57 per cent in Ontario in 12 years, says a new study led by TGHRI Senior Scientist Dr. Vivek Rao.
Dr. Rao, who is also Chief of Cardiovascular Surgery at the Peter Munk Cardiac Centre and a heart transplant surgeon at UHN's MultiOrgan Transplant Program, compared transplant activity in three distinct eras, from 2002 to 2014, spanning the time before the donation after cardiac death (DCD) policy to after the policy was adopted in Ontario in 2006.
In study, which was recently published in the Canadian Medical Association Journal (CMAJ), found that the total number of organ donors increased from 132 to 233 per year, with a cumulative total of 2,258 deceased donors and 6,763 deceased-donor transplants. Over the three successive eras, the proportion of DCD donors also increased, with DCD accounting for 21 per cent of overall donor activity in the most recent era, ending in March 2014.  
"Ontario now enjoys one of the highest rates of DCD in North America", writes Dr. Rao, adding that DCD has been the most important development in efforts to expand the donor pool.​
In DCD, death is declared on the basis of cardiopulmonary criteria (irreversible cessation of circulatory and respiratory function) rather than the neurologic criteria used to declare "brain death" (irreversible loss of all functions of the entire brain, including the brain stem). Such donations usually involve patients who are on a ventilator as the result of irreversible brain or spinal cord injuries or end-stage musculoskeletal disease.
DCD is practiced in the U.S. and Europe, including the United Kingdom, where DCD donors comprise about 40 per cent of all deceased donations. This approach was followed until about 1968, when a brain-based definition of death was adopted.
In an accompanying commentary, Dr. Sam Shemie, a critical care physician at the Montreal Children's Hospital, adds that donation after neurological determination of death does not appear to have been adversely affected by DCD.
Both types of donations have increased, he writes, pointing out that donation-focused personnel, such as physicians and nurse coordinators, have also improved the organ donation system.
"This DCD resource has always been there," notes Dr. Les Lilly, Medical Director, Gastrointestinal Transplantation. "But for years and years the organs of these patients have been buried with them, and although there is minimal activity in their brain stem, you can't live with just a brain stem. These are patients who don't wake up."
The impact on increasing donation is huge, says Dr. Lilly, noting that brain death accounts for about 1.5 per cent of hospital deaths. For most patients, death occurs due to cardiac death after life support is removed.  
In Ontario, at any point in time, there are 1,500 patients waiting for an organ transplant, and someone dies every three days while waiting. Currently, about 30 per cent of Ontarians have registered consent to donate.
You can register online at www.BeADonor.ca, the provincial site administered by Trillium Gift of Life network. 
Rao V, Dhanani S, MacLean J, Payne C, Paltser E, Humar A, Zaltzman J. Effect of organ donation after circulatory determination of death on number of organ transplants from donors with neurologic determination of death. CMAJ. 2017 Sep 25. doi: 10.1503/cmaj.161043.
Source: UHN.ca