Home page Description:
Popular Krembil virtual event explored the future of dementia research and care.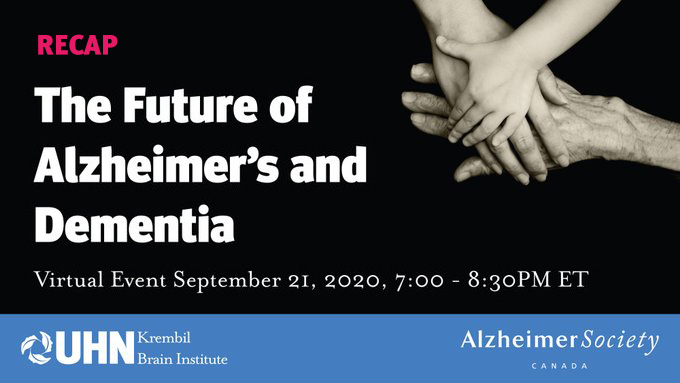 On World Alzheimer's Day, Krembil Brain Institute, together with the Alzheimer Society of Canada, hosted a free, virtual event called The Future of Alzheimer's and Dementia. Over 300 viewers heard first-hand from those living with dementia and their loved ones, as well as from leading scientists.
More than 500,000 Canadians are living with dementia and Alzheimer disease. By 2031, that number is expected to rise to nearly one million Canadians. To help keep the spotlight on this urgent problem, the event was organized to bring together the broader community and to communicate the progress being made.
Following opening remarks from Dr. Kevin Smith, UHN's CEO and President, viewers learned about the lived experience of Leonard & Naome Howe—community members who are living with dementia. The Howe's shared their story and optimism for the future of dementia research. "I want to share my story because I want to help others and I believe that others can be helped," says Leonard Howe. "We'll get there."
Panelist Dr. Donald Weaver, neurologist and Co-Director of UHN's Krembil Brain Institute, echoed the need to help one another: "We have to work collectively if we are going to find the solutions that are required."
Award-winning science broadcaster and best-selling author Jay Ingram set the stage with a keynote address that explored his knowledge and perspectives on Alzheimer's disease. Next began the panelist discussion, which highlighted the latest dementia research advancements, prevention strategies, caregiver support, and the impacts that COVID-19 has had. Also, Dr. Saskia Sivananthan, Chief Research & KTE Officer with the Alzheimer Society of Canada, discussed the stigma surrounding dementia diagnoses and the benefits of dementia-friendly communities.
Notably, the event brought to light the importance of including people with lived experience in dementia research. Dr. Andrea Iaboni, Geriatric Psychiatrist and Clinician-Scientist at KITE Research Institute commented, "As researchers and doctors, we often have a deficit focus—we think about the problems and the symptoms. But what people living with dementia bring is a focus on problem-solving, strengths, adaptation and learning to thrive while living with dementia. Involving people [living with dementia] from very early stages is essential."
Thank you to those who tuned in for the event and the panelists and speakers for providing critical insight into the future of dementia research and care, as well as highlighting our collective responsibility to reduce stigma. "Getting this conversation going, that's why we brought you together tonight," said Dr. Weaver. "Dementia and Alzheimer's disease in particular is quickly becoming a global health threat that we cannot afford to ignore."
You can view the full event recording here.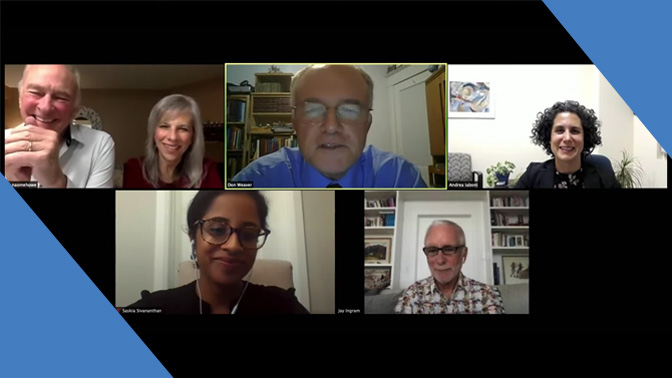 Speakers at the event (clockwise from top left): Leonard and Naome Howe, Dr. Donald Weaver, Dr. Andrea Iaboni, Jay Ingram and Dr. Saskia Sivananthan.