Home page Description:
A simple, everyday action can help prevent hospital-acquired infections: wash your hands.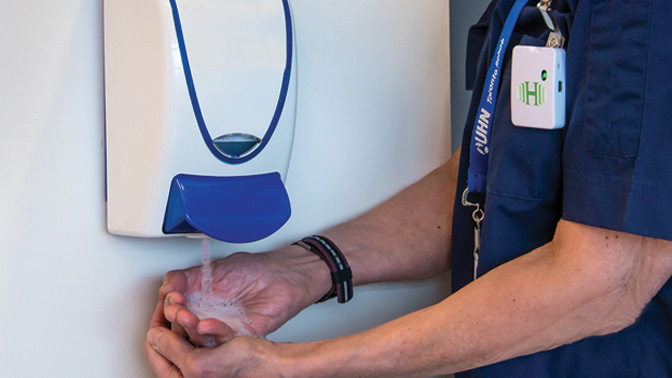 "Wash your hands." Variations on those three simple words adorn many washrooms and hospital corridors because handwashing can help prevent the spread of disease. It's not a new idea: Dr. Ignaz Semmelweis first proposed having doctors wash their hands before treating patients in 1847.
Although washing hands may be a simple and effective way to reduce the spread of infection, getting care providers to consistently wash their hands when entering patient rooms and coming into contact with patients may be more challenging.  A similar challenge was observed by Dr. Semmelweis himself.
At UHN's Toronto Rehab, every patient room has easy access to soap and water or an alcohol-based hand sanitizer. When sensors were added to the soap and sanitizer dispensers, opportunities for improved hand hygiene to reduce the spread of infection were discovered.
To help encourage handwashing, a team led by Senior Scientist Dr. Geoff Fernie invented a wearable badge that provides a discrete reminder in the form of a vibration and gentle beep. With sensors that are easily installed, the badges can determine when a staff member enters or exits a patient room, and whether they have dispensed soap or sanitizer. If they forget to clean their hands, the badge gently vibrates to discretely remind them; after washing, a light on the badge glows green for positive encouragement.
The team recently completed a study to measure the effects on handwashing behaviour and to determine whether long-term use of the system could lead to sustained increased hand washing when entering patient rooms and delivering patient care.
The results were very promising: soap and sanitizer use nearly doubled when the hand hygiene prompting badges with the reminder were introduced at several Toronto Rehab clinical units. The improved performance was sustained over the course of a year, demonstrating the effectiveness of the technology.
Dr. Fernie comments, "Our findings show that this technology holds great promise for ensuring proper hand hygiene. It may one day be integrated into hospitals around the world as an important part of the global commitment to caring safely."
This work was supported by the Ontario Ministry of Health and Long-Term Care, the Canadian Institutes of Health Research and the Toronto Rehab Foundation.
Pong S1, Holliday P2, Fernie G. Effect of electronic real-time prompting on hand hygiene behaviors in health care workers. Am J Infect Control. 2018 Mar 2. doi: 10.1016/j.ajic.2017.12.018.