Home page Description:
Treatment with interferon, a drug used for multiple sclerosis, shows promise for Ebola.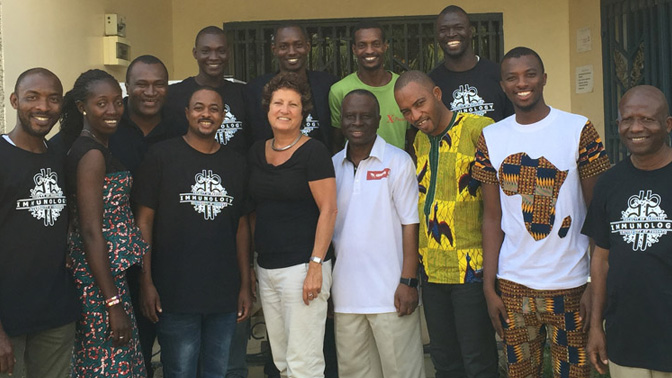 Announced on Apr 7, 2017
The 1995 film Outbreak was a box office success. The plot of the movie followed doctors and scientists as they aimed to prevent the spread of a highly contagious virus and develop a cure for the deadly disease.

Although much of Outbreak's plot is dramatized, its scientific component is based on one of the world's greatest health issues: infection with the Ebola virus, which causes Ebola virus disease (EVD). During the largest Ebola epidemic to date, from 2013 to 2016 in West Africa, the World Health Organization declared EVD a "Public Health Emergency of International Concern". Currently, a treatment for EVD does not exist.

To this end, researchers around the world—including TGHRI Senior Scientist Dr. Eleanor Fish—are searching to find effective treatments for EVD, before the onset of another epidemic. Repurposing existing drugs that are already approved for use in humans is a strategy that could fast track the effort. Thus, Dr. Fish decided to explore the use of interferon-β1a, which is produced naturally by the body after infection with a virus. The drug is currently used to treat multiple sclerosis, but Dr. Fish's previous findings have revealed that boosting levels of the protein in experimental models was effective at treating EVD.

Given this evidence, Dr. Fish and her research team conducted a trial of interferon-β1a during the most recent Ebola outbreak in West Africa. The team found that 67 per cent of the interferon-treated patients were still alive at 21 days compared to 19 per cent of those who received supportive treatment only. Additionally, those treated with the drug were able to more quickly eliminate the virus from the bloodstream and recover from EVD-related symptoms, such as abdominal pain, vomiting, nausea and diarrhea.  

"Interferon-β1a is already being used clinically, so we know that it is safe and readily available," explains Dr. Fish. "Although more research needs to be done, the results of our study show that this drug warrants further study."

This work was funded by the Canadian Institutes of Health Research and supported by The European Mobile Laboratory and the Global Outbreak Alert and Response Network. E Fish is a Tier 1 Canada Research Chair in Women's Health and Immunobiology.

Konde MK, Baker DP, Traore FA, Sow MS, Camara A, Barry AA, Mara D, Barry A, Cone M, Kaba I, Richard AA, Beavogui AH, Günther S; European Mobile Laboratory Consortium, Pintilie M, Fish EN. Interferon β-1a for the treatment of Ebola virus disease: A historically controlled, single-arm proof-of-concept trial. PLoS One. 2017 Feb 22. doi: 10.1371/journal.pone.0169255.