Home page Description:
New state-of-the-art imaging systems are advancing pre-clinical surgical research at UHN.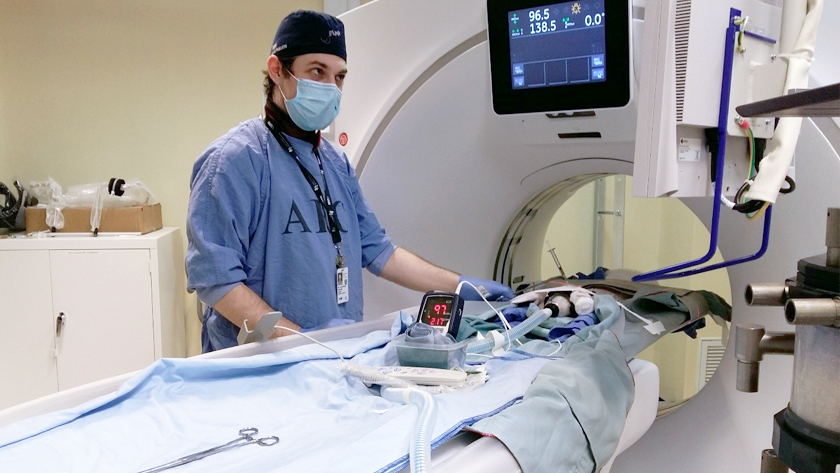 Two new computerized tomography (CT) systems have been installed in UHN's core facilities to support the research community.
The STTARR Innovation Centre has acquired a 128-slice, spectral (dual-energy) CT system. The model that was acquired is the GE Healthcare Revolution Gen 2 ES, which, relative to previous models, has enhanced small lesion detection, improved tissue characterization and metal artefact reduction. It comes with a Stellant integrated contrast injector and fluoroscopy capabilities, and post-processing software packages, which allow segmentation and quantitative analysis of conventional mono-energetic and dual-energy acquisitions. A 70-cm tilt-gantry aperture provides the flexibility to image a wide range of large animal models and ex vivo specimens.
The second system is housed at the Guided Therapeutics (GTx) Surgery facility. The new system is a Siemens Cios Spin cone-beam CT, which replaces an aging C-arm prototype system. The new CT has improved image quality and superior reliability. It is also highly mobile and can be used to support guidance technology studies, and with pre-clinical animal models and patent analogs. Thus, the new cone-beam CT represents a key resource for image-guided surgery in head, neck, thoracic and orthopedic procedures, while making use of biocompatible three-dimensional (3D) scaffolds and custom 3D-printed cutting guides. Recently, the new system was integrated into a cutting edge projection-based augmented reality surgical navigation platform, which can be used to project pre-surgery plans and tumors onto the surgical site with sub-millimeter accuracy.
Both of these systems greatly advance the ability of STTARR and GTx clients to conduct imaging research and compliments the wide range of other imaging resources located at these facilities. The purchase of this state-of-the-art equipment was completed by Junior Project Manager Peter Ashton at Research Facilities Planning & Implementation and was made possible by funding from the Canada Foundation for Innovation, the Province of Ontario, The Princess Margaret Cancer Foundation and UNIFOR.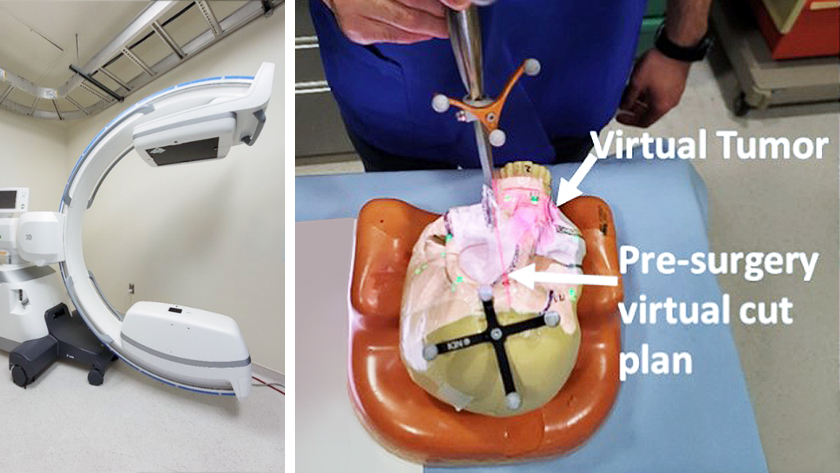 A Siemens Cios Spin Cone-Beam CT (left) has been installed at Guided Therapeutics Program (GTx) facility located at PMCRT. The system has been integrated into a cutting-edge projection-based augmented reality platform (right) to enable simulation-based training.