Home page Description:
Drug continues to prevent kidney damage several months after patients stop taking it.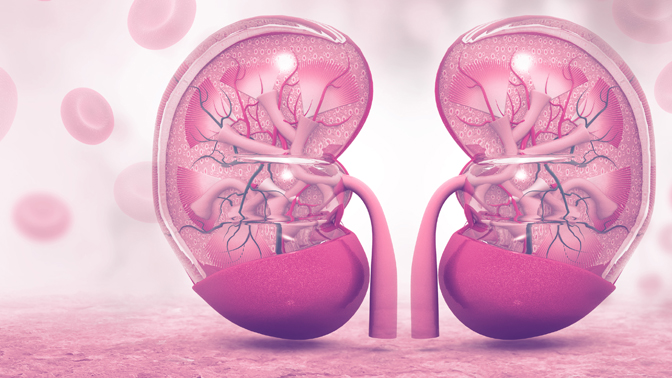 A new study from the University Health Network shows that the drug rituximab represents a promising new treatment for a type of kidney disease known as membranous nephropathy. The study's findings were recently published in the New England Journal of Medicine.
In membranous nephropathy, the immune system mistakenly attacks and damages kidney tissue. In 70% of cases, the disease progresses, impairs kidney function and puts patients at high risk of permanent kidney failure.
"Patients with membranous nephropathy are typically treated with a drug known as cyclosporine, which suppresses the activity of immune cells. Cyclosporine stops the kidney damage while patients are receiving the drug; however, in many patients, the damage returns as soon as they stop treatment. As such, more effective treatments are needed," explained Dr.
Daniel Cattran
, an Emeritus Scientist at the Toronto General Hospital Research Institute.
Dr. Cattran co-led the new study, along with Dr. Fernando Fervenza at the Mayo Clinic, to evaluate rituximab in membranous nephropathy. Rituximab suppresses the activity of a specific type of immune cell known as B cells and is commonly used to treat certain types of cancer and arthritis.
For the study, the researchers enrolled 130 patients with membranous nephropathy from across North America who were at high risk for progressive kidney disease. Half of the patients received cyclosporine for 12 months, and the other half received rituximab at the beginning of the study and at 6 months, depending on their response to the drug.
The researchers found that 60% of patients treated with rituximab had reduced or no signs of kidney damage at 12 months after their last treatment. In contrast, only 20% of patients treated with cyclosporine had reduced damage at this same time point and none were completely healed.
"Our results show that rituximab provides patients with long-term protection against kidney damage and could potentially replace cyclosporine as the preferred treatment for membranous nephropathy," says Dr. Cattran.
This study was investigator initiated and supported by Genentech, the Fulk Family Foundation and the Toronto General & Western Hospital Foundation. P Jüni holds a Tier 1 Canada Research Chair in Clinical Epidemiology of Chronic Diseases.
Fervenza FC, Appel GB, Barbour SJ, Rovin BH, Lafayette RA, Aslam N, Jefferson  JA, Gipson PE, Rizk DV, Sedor JR, Simon JF, McCarthy ET, Brenchley P, Sethi S, Avila-Casado C, Beanlands H, Lieske JC, Philibert D, Li T, Thomas LF, Green DF, Juncos LA, Beara-Lasic L, Blumenthal SS, Sussman AN, Erickson SB, Hladunewich M,  Canetta PA, Hebert LA, Leung N, Radhakrishnan J, Reich HN, Parikh SV, Gipson DS, Lee DK, da Costa BR, Jüni P, Cattran DC; MENTOR Investigators. Rituximab or Cyclosporine in the Treatment of Membranous Nephropathy. N Engl J Med. 2019 Jul 4. doi: 10.1056/NEJMoa1814427.