Home page Description:
Comprehensive map of liver cells could provide new insights into health and disease.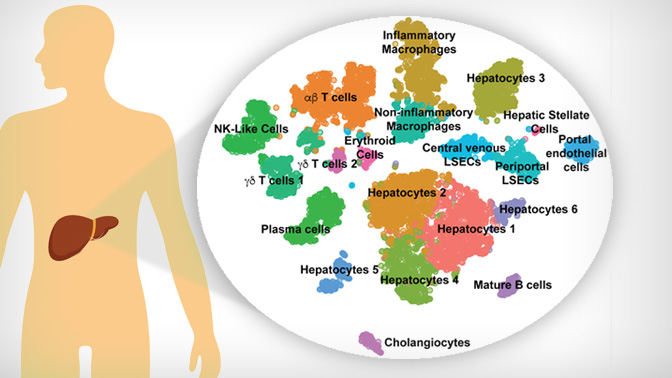 Announced on Nov 5, 2018
A map of the cells in the human liver has been created, revealing the most comprehensive inventory of the different cells present in the liver and the differences between individual cells at the molecular level.
"For the past 20 years, we have studied the liver as a soup of cells as opposed to its individual components. This makes it difficult to target individual cells that are driving liver disease," says Dr. Sonya MacParland, a Scientist at UHN's Toronto General Hospital Research Institute (TGHRI), and lead author of the study published in Nature Communications.
To address this issue, Dr. MacParland and her research team used state-of-the-art genetic approaches and software engineering to map out the cellular landscape of 8,444 individual cells obtained from the tissues of healthy deceased donor human livers.
The project involved over 30 multidisciplinary experts, including transplant surgeons, immunologists, hepatologists, computer scientists and genomics researchers such as TGHRI Senior Scientist Dr. Ian McGilvray and Dr. Gary Bader, Professor at the University of Toronto's Donnelly Centre for Cellular and Biomolecular Research.
By examining the gene expression profiles of each of the cells—about 1,500 active genes per cell—the research team found 20 distinct cell populations, including hepatocytes, endothelial cells, cholangiocytes and various immune cells such as B cells, T cells and natural killer cells.
They also discovered two new distinct populations of macrophages, known as tissue-resident macrophages. Commenting on this finding, Dr. McGilvray says. "Until this study, very little was known about the liver macrophage—the 'tank' of the immune system that destroys foreign substances and co-ordinates the immune response. We found that there are two distinct populations of macrophages in the human liver, one which is pro-inflammatory and the other anti-inflammatory." This new understanding may help scientists identify new strategies to reduce organ rejection in liver transplant recipients or reduce the need for immunosuppressive medications.
While it provides a detailed picture of the cells in a healthy human liver, as the map is refined, future studies will compare these cells to those in a diseased liver, providing further insight into health and disease.
Source: UHN.ca
This work was supported by the University of Toronto's Medicine by Design initiative which receives funding from the Canada First Research Excellence Fund, UHN's Transplant Program, and the Toronto General & Western Hospital Foundation. G Keller holds a Tier 1 Canada Research Chair (CRC) in Embryonic Stem Cell Biology; JE Fish holds a Tier 2 CRC in Vascular Cell and Molecular Biology; and MD Wilson holds a Tier 2 CRC in Comparative Genomics. The findings from this study will be made available to the Human Cell Atlas Project, an international, open-access, collaborative effort to map all human cells (www.humancellatlas.org).
MacParland SA, Liu JC, Ma XZ, Innes BT, Bartczak AM, Gage BK, Manuel J, Khuu N, Echeverri J, Linares I, Gupta R, Cheng ML, Liu LY, Camat D, Chung SW, Seliga RK, Shao Z, Lee E, Ogawa S, Ogawa M, Wilson MD, Fish JE, Selzner M, Ghanekar A, Grant D, Greig P, Sapisochin G, Selzner N, Winegarden N, Adeyi O, Keller G, Bader GD, McGilvray ID. Single cell RNA sequencing of human liver reveals distinct intrahepatic macrophage populations. Nat Commun. 2018 Oct 22;9(1):4383. doi:  10.1038/s41467-018-06318-7.