Home page Description:
Emerging laser technology shows promise as a treatment for age-related macular degeneration.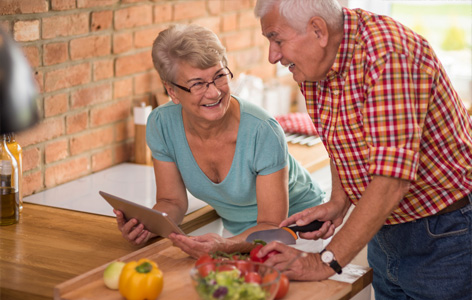 Age-related macular degeneration (AMD) is a disease where the retina, the light-sensitive coating at the back of the eye, deteriorates. It can lead to irreversible blindness and affects nearly 50 million people worldwide.
There are two types of AMD: wet and dry. The dry type affects 80-90% of AMD patients. Although it is unclear what role they play in the disease, it is characterized by the presence of yellowish deposits known as drusen. There is currently no approved treatment for dry AMD.
Krembil Clinician Investigator Dr.
Robert Devenyi
and Dr. Graham Merry from Photospectra Health Sciences recently investigated the use of an emerging laser-based therapy to remove drusen. The approach, which is called photobiomodulation (PBM), was used in 24 people with dry AMD. Before and after treatment, the research team measured visual function, including visual acuity (patients' ability to see fine details) and contrast sensitivity (ability to detect low contrast images).
The team found that PBM significantly improved visual acuity and contrast sensitivity immediately after treatment. This improvement was sustained, with benefits lasting for up to three months after treatment. The team also shed light on the role of drusen in dry AMD, as the benefits varied with the change in drusen size: greater decreases in drusen size were associated with greater improvements in vision.
"Our results suggest that PBM treatment can simultaneously reduce drusen volume and improve vision," says Dr. Devenyi. "We are now conducting a large-scale clinical trial to further elucidate the safety and efficacy of PBM, with the hopes of establishing it as a novel treatment for dry AMD."
This work was supported by the Toronto General & Western Hospital Foundation. Merry GF, Munk MR, Dotson RS, Walker MG, Devenyi RG.
Photobiomodulation reduces drusen volume and improves visual acuity and contrast sensitivity in dry age-related macular degeneration
. Acta Ophthalmol. 2016 Dec 18. doi: 10.1111/aos.13354.