Home page Description:
Arts-based approaches are effective in improving the quality of life for people with dementia.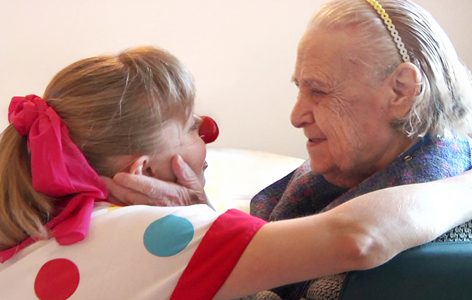 Announced on Apr 8, 2016
Dementia is associated with significant challenges, such as agitation. To manage these challenges, clinicians prescribe medications to modify behavioural and psychological function; however, these drugs have harmful effects, including an increased risk of stroke and death.
Best practices now recommend that before medications are prescribed, alternative approaches be tried first. In particular, arts-based approaches can alleviate the challenges associated with dementia. The most recent of these is the use of professional performers known as elder-clowns. These performers don a red nose and use improvisation, humour, music, empathy and expressive tools to enrich the lives of older adults. There is limited knowledge, however, of the impact of elder-clowning on people with dementia living in nursing homes.
To explore this issue, TRI Senior Scientist Dr. Pia Kontos initiated a study of elder-clowning in the dementia care unit of a nursing home. Her research team used interview-based questionnaires and observational tools to evaluate the effect of elder-clowning on residents with dementia. They found that the residents' agitation decreased and quality of life improved after twelve weeks of elder-clown visits.
The researchers also examined whether elder-clowning affected the impact of dementia symptoms on the provision of care by health care practitioners. Through interview-based questionnaires, the staff reported less disruption in their ability to provide care.
"This is the first study to demonstrate that elder-clowning improves health and the provision of dementia care," says Dr. Kontos. "It provides compelling support for this novel arts-based approach to improve the well-being of people with dementia."
Click here to watch an interview with Dr. Kontos and learn more about her research.
This work was supported by the Canadian Institutes of Health Research and the Toronto Rehab Foundation.
Elder-clowning in long-term dementia care: results of a pilot study. Kontos P, Miller KL, Colobong R, Palma Lazgare LI, Binns M, Low LF, Surr C, Naglie G. Journal of the American Geriatrics Society. doi: 10.1111/jgs.13941. 2016 Feb. [Pubmed abstract]