Home page Description:
New centre aims to develop implantable devices to treat neurological conditions.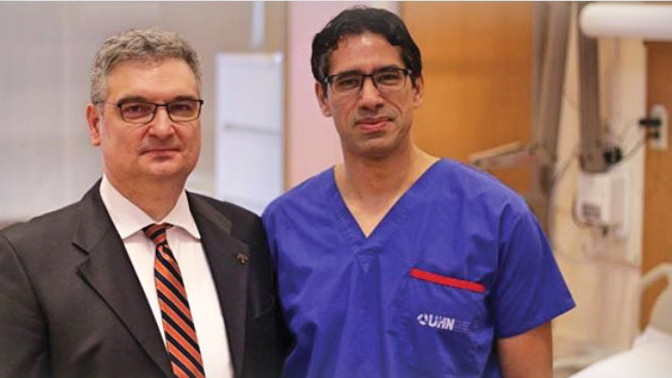 Announced on Jun 6, 2018
On May 15th, the University Health Network (UHN) and the University of Toronto (UofT) launched the CenteR for Advancing Neurotechnological Innovation to Application (CRANIA). The centre aims to find safe and permanent solutions for conditions that have been haunting humanity, such as Alzheimer disease, Parkinson disease, depression, epilepsy, chronic pain, spinal cord injury, amongst many others.

Just how will it do that? Through unique technological advancements invented in Canada and applied to the field of neuromodulation.

Neuromodulation uses sophisticated devices that can be implanted in a patient's brain, spinal cord or peripheral nerves. These devices modulate neuronal activity through either an electric or chemical stimulus. They can help control tremors from Parkinson disease, relieve chronic pain or even improve bladder control. It is a field that is progressing rapidly in medicine.

Dr. Taufik Valiante, a Scientist at the Krembil Research Institute and co-founder of CRANIA, says that although Canada has a strong tradition of research in health care, it has lagged behind in neuromodulation development and commercialization. CRANIA will change that.

"When we import technology we have no ability to change it and to innovate," says Dr. Valiante. "At CRANIA, we will have this unique multi-disciplinary and integrated approach that will allow us to better understand brain dysfunctions and develop new solutions for our patients."

Currently, the state-of-the-art approach in many areas of neuroscience typically treats a region rather than pinpointing the source of the problem.

"It's like giving antibiotics to a whole city because one person has an infection," says Dr. Milos Popovic, Director at the Toronto Rehabilitation Institute (TRI) and co-founder of CRANIA. "We end up hitting a lot more neurons than we need to, including healthy neurons. At CRANIA, we will drastically improve accuracy and precision of treatments, targeting only the diseased neurons and preserving many more of the already healthy ones."

CRANIA researchers are using highly advanced technologies to better understand how these diseases affect the brain. By analyzing this data using machine learning, they will be able to develop customized solutions that will target a specific dysfunction with less or no side effects.

CRANIA's unique approach

CRANIA is a project that stretches beyond UHN's walls.

Drs. Popovic and Valiante know the value of multidisciplinary research, which is why they decided on a coordinated approach with the university—involving the Faculties of Applied Science and Engineering, Medicine, and Arts and Science.

The plan is to have researchers, computer scientists, engineers, mathematicians and physicians be part of the same team.

"We want to break the silos between specialties and essentially have a structure where everybody can come together around the same goal," says Dr. Popovic. "This will allow us to advance much faster and to really apply our knowledge to clinical practice."

Dr. Valiante explains that current projects involving neuromodulation are mostly focused on one disease or one technology being used for a specific application. "The way CRANIA is being structured, I don't think we have any parallel in the world with the same level of integration, sophistication and capability."

Taking off

CRANIA has an initial budget of $21 million, funded by the Canada Foundation for Innovation, the Ontario Research Fund, the Walter & Maria Schroeder Institute for Brain Innovation & Recovery, the Toronto Rehab Foundation and UofT.

The centre will be housed in a 2,500 square-foot state-of-the-art facility at Toronto Western Hospital and will have its own staff.

With years of experience in management in higher education, Nefeteria Wickham has been tasked with getting CRANIA off the ground. She is the new Associate Director for CRANIA and will oversee all operations, from research and technology development to the educational mandate in partnership with UofT. Nefeteria will help establish CRANIA's Neuromodulation Institute (CNMI), a collaborative program for undergraduate and graduate students.

"I'm very excited to be part of such an innovative enterprise," she says. "I'm confident that CRANIA's approach will be very effective in developing new devices that will have a real impact on patients' lives."

This is an adaptation of a story originally published by UHN News on www.uhn.ca.