Home page Description:
Study finds not all cervical cancer should be treated with minimally invasive surgery.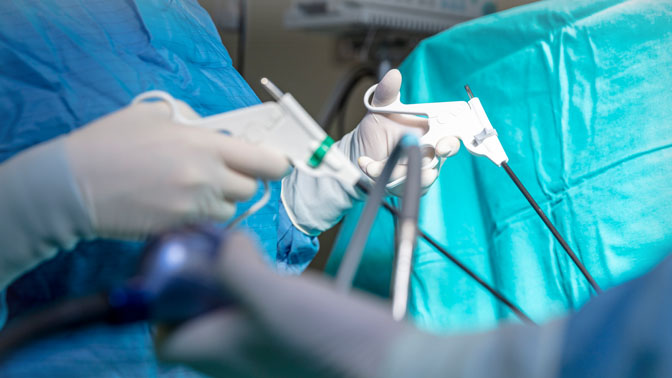 A study of Ontario early-stage cervical cancer patients has shown that there is a higher rate of death and cancer recurrence in patients who are treated with a radical hysterectomy using minimally invasive surgery (MIS) compared to those who undergo traditional surgery.
Women with early-stage cervical cancers are usually treated with a radical hysterectomy where the uterus, cervix and surrounding tissues are surgically removed. The MIS approach has been widely used to perform these surgeries; however recent studies have started questioning its safety.
This study, led by Princess Margaret Cancer Centre scientist Dr. Sarah Ferguson, examined the outcomes of 958 patients in Ontario who had radical hysterectomy by either MIS or traditional surgery, from 2006 to 2017.
Dr. Ferguson and her team found that, within five years after surgery, deaths occurred in 12.5 percent of those receiving MIS in contrast to 5.4 percent of those undergoing  traditional surgery. Moreover, cancer recurred in 16.2 percent of patients receiving MIS, compared to 8.4 percent of those undergoing traditional surgery. As a result of these findings, the MIS procedure is no longer used at UHN in patients with early-stage cervical cancers.
"Surgeons believed that minimally invasive radical hysterectomy was safe because it was shown to be safe for many other cancers, such as endometrial cancer," said Dr. Maria Cusimano, the lead author of the study. "Our study shows the opposite."
Both Drs. Cusimano and Ferguson emphasize that these results refer to only a small proportion of patients with a specific stage of cervical cancer. They do not apply to the use of MIS hysterectomy for endometrial cancer or other non-cancerous gynecologic conditions.
Drs. Cusimano and Ferguson are now working to understand why MIS has a different effect on this particular subset patients, and whether altering the MIS technique can make a difference in outcomes.
This work was supported the Rose Torno Chair Award, the Department of Obstetrics & Gynecology at Mount Sinai Hospital/University Health Network, The Princess Margaret Cancer Foundation and by ICES, which is funded by the Ontario Ministry of Health & Long-Term Care.
Cusimano MC, Baxter NN, Gien LT, Moineddin R, Liu N, Dossa F, Willows K, Ferguson SE. Impact of surgical approach on oncologic outcomes in women undergoing radical hysterectomy for cervical cancer. Am J Obstet Gynecol. 2019 Jul 6. pii: S0002-9378(19)30893-2. doi: 10.1016/j.ajog.2019.07.009.