Home page Description:
Rare T cells may represent a safe and effective treatment for chemotherapy-resistant leukemia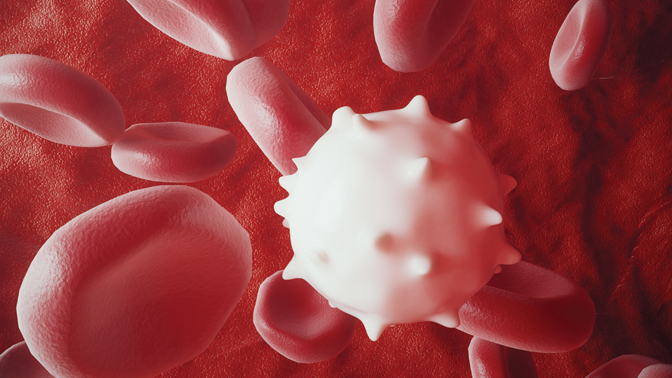 Announced on Nov 24, 2017
T cells are sentries of the immune system. They patrol the body for infectious microorganisms and help coordinate an attack to eliminate them.  They also search for and destroy infected or cancerous human cells, while sparing healthy ones.

For over 20 years, researchers have been developing new cancer treatments that harness T cells' potent and selective anti-cancer activity. Generally, T cell therapies are produced by purifying T cells from a patient and manipulating them in the laboratory. The cells are then given back to the patient where they either kill the tumour or elicit a strong immune response against it. Several T cell therapies have generated promising results in clinical trials.

TGHRI Senior Scientist Dr. Li Zhang and her team have found that a rare subset of T cells could help to treat a deadly blood cancer known as acute myeloid leukemia (AML).  New, more effective treatments for AML are sorely needed: for many AML patients, their cancer does not respond to conventional chemotherapy or it recurs after treatment. The five-year survival rate of AML ranges between 5% and 35%, depending the patient's age.

In their latest study, Dr. Zhang's team examined the use of T cells termed double negative T cells (DNTs) which represent less than 3% of all T cells in the blood. The researchers devised a simple and inexpensive method to produce large quantities of pure DNTs from a small number of cells collected from healthy donors. Next, they showed that these DNTs selectively killed cancer cells—including chemotherapy-resistant cells—in several experimental models of AML. Importantly, DNTs targeted AML cells without eliciting any of the harmful side effects commonly associated with other T cell treatments.

These findings suggest that DNTs from healthy donors could represent a safe and effective treatment for chemotherapy-resistant leukemia. Moreover, DNTs also offer many advantages over other T cell therapies:  they do not need to be genetically modified or obtained from donors that 'match' patients; therapeutic doses of DNTs can be produced quickly and relatively cheaply; and DNTs' anti-cancer activity is not diminished by freezing cells, indicating that DNTs could be frozen in therapeutics doses and offered as an 'off-the-shelf' therapy for AML.

Lee JB, Minden MD, Chen WC, Streck E, Chen B, Kang H, Arruda A, Ly D, Der SD,  Kang S, Achita P, D'Souza C, Li Y, Childs RW, Dick JE, Zhang L. Allogeneic human double negative T cells as a novel immunotherapy for acute myeloid leukemia and its underlying mechanisms. Clin Cancer Res. 2017 Oct 26. doi: 10.1158/1078-0432.CCR-17-2228.

This work was supported by the Leukemia & Lymphoma Society, the Canadian Cancer Society, the Canadian Institutes of Health Research and the Toronto General & Western Hospital Foundation. L Zhang is the Maria H. Bacardi Chair of Transplantation. J Dick is a Tier 1 Canada Research Chair in Stem Cell Biology.