Home page Description:
Certain features of psoriatic arthritis put patients at higher risk for cardiovascular disease.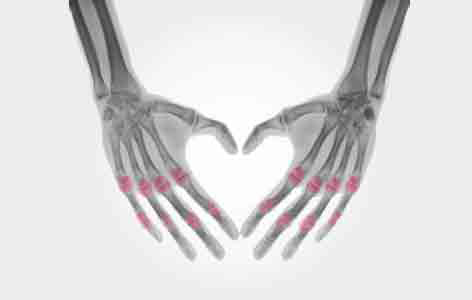 Announced on Nov 27, 2015
People with psoriatic arthritis (PsA) experience the symptoms of psoriasis and arthritis, including itchy and scaly skin accompanied by joint inflammation, pain and discomfort. Studies have shown that cardiovascular events—such as heart attacks and strokes—occur more frequently in PsA patients than in the general population. Recently, Krembil Senior Scientist Dr.
Dafna D Gladman
, Dr. Lihi Eder (University of Toronto postdoctoral fellow) and collaborators analysed results from a large-scale study over 35 years to identify factors that put PsA patients at greater risk of cardiovascular disease.  
For the study, the researchers enrolled 1,091 PsA patients who were examined every 6 to 12 months. The researchers tracked demographic information, lifestyle habits, medical history, medication use, laboratory test results and measures of PsA disease for each of the study participants. The study revealed that PsA patients with high blood pressure and diabetes were at a higher risk of cardiovascular disease. In addition to these traditional cardiovascular risk factors, the researchers showed that as the number of swollen fingers and toes increased, so did the patient's likelihood of having a cardiovascular event.  
"We found that patients with PsA are much more likely to develop cardiovascular disease at some point in their lives as well as the characteristics of PsA that contribute to poor cardiovascular health," says Dr. Gladman. "These results highlight the importance of screening and controlling PsA symptoms in preventing cardiovascular disease."  
This work was supported by the Krembil Foundation, the Canadian Institutes of Health Research, the Arthritis Society and the Toronto General & Western Hospital Foundation. R Cook holds a Tier 1 Canada Research Chair in Statistical Methods for Health Research.
Incidence and predictors for cardiovascular events in patients with psoriatic arthritis. Eder L, Wu Y, Chandran V, Cook R, Gladman DD.
Annals of the Rheumatic Diseases.
2015 Oct 22.
[
Pubmed abstract
]