Home page Description:
Updates from the UHN Bicycle User Group: new bicycle infrastructure and policies.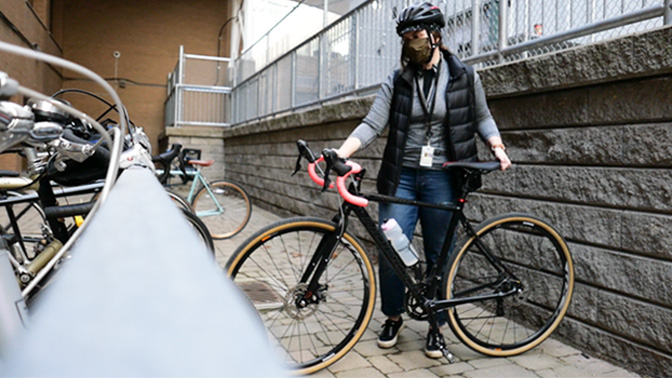 As the weather gets warmer and the days longer, it is a great time to bike to UHN. Biking is sustainable, provides much needed exercise and allows you to avoid overcrowded public transit.
UHN is home to extensive bicycle infrastructure that continues to expand in response to growing demand during the pandemic. While UHN builds the capacity for more bicycle parking, new policies are being implemented to ensure that users can access spots when they arrive to work.
Bicycle Parking Dos and Don'ts
Given the high demand for this resource, it is important that it is shared equitably among all staff. Long-term storage of your bike is not permitted because it hinders the ability of UHN to accommodate all cyclists in our research community. To guard against this, periodic patrols will identify and tag bicycles that appear to be abandoned or stored on-site for an extended period of time. Owners of these bicycles will have two weeks grace before they are removed and donated to community organizations. New signage will be installed shortly to remind users of this policy.

Bike Share Toronto UHN Discount
If you are interested in cycling to work but don't have access to a bicycle, Bike Share Toronto offers 24/7 access to 5,000 bikes and 465 stations across the city. Bike Share Toronto is kindly offering UHN employees a $40 discount off annual memberships. See here for details on how to easily request your discount code.
Expanded Biking Infrastructure in Toronto
The City of Toronto is also increasing cycling infrastructure by installing over 25 km of a planned 40 km of new protected bike lanes. Some of the most recent bike lane additions are on University Avenue, Bloor Street, Dundas Street and Danforth Avenue. See here for updated information on bike lanes near you.
Join the UHN Bicycle User Group
If you are choosing to bike to work this summer, be sure to take safety precautions such as completing regular bike maintenance, using lights and wearing a helmet at all times. For up-to-date cycling information, join the UHN Bicycle User Group by contacting UHNcycling@uhn.ca.