Home page Description:
Use of 'VPN' to connect off-site is the new preferred standard for all UHN staff.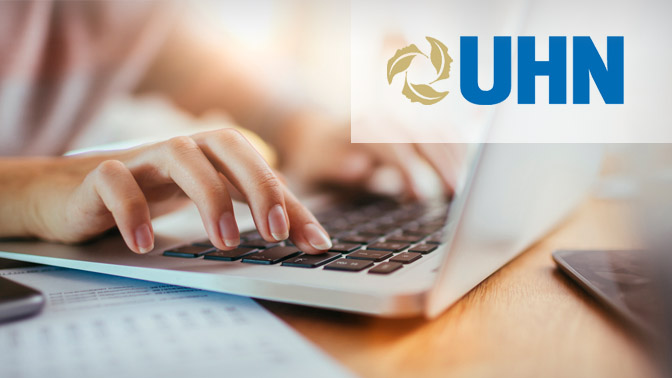 Due to recent developments regarding COVID-19, Toronto Academic Health Science Network hospitals have launched an official work-from-home policy. ​

​HOW TO ACCESS COMMONLY USED RESEARCH TOOLS​
Most of the commonly used research applications are now available through the research Intranet.
To access the research and corporate intranet, please log in on this page by entering your research username and password. Once logged in, you will be directed to the corporate intranet. Click on 'Research' at the top menu to navigate to the research intranet.
When you are on the research intranet, the following applications can be found under the 'Tools' tab: AARCFFR, ARC, BMS, MAP3, CFIG, CAPCR, CSA, GRS, PMHF Fund Reports, PRO, RFIS, DDP, CRR, Greenlight, Patient Tracker, Cancer Staging, eClinical. ​
​HOW TO ACCESS REMOTE DESKTOP AND VPN​
One Time Password (OTP) keys for remote access to the UHN network will be phased out by June 2021 (extended from March 2021). For any questions about the use of OTP keys moving forward, please email  DigitalResearch@uhn.ca.
For UHN staff to connect to the research network remotely, please use VPN (Virtual Private Network) where possible:
For more information about how to set this up, please go to the  Working Remotely with VPN page (uhnresearch.ca > NEWS > Working Remotely with VPN)
Note: When connecting through this method, you may lose connection to local resources such as your printer at home
For non-UHN users of UHN applications and services, please await instructions from your UHN contact once an alternative solution has been determined.
Other helpful resources:
If you have any technical issues with setting up or using VPN, please contact RIS Helpdesk.
HOW TO ACCESS EPR REMOTELY FOR CLINICAL TRIAL MONITORS
***Updated August 19, 2020: see the remote clinical study monitoring sharepoint site for guidance on setting up remote monitoring at UHN.