Home page Description:
Machine-learning system creates high-quality radiation therapy plans for patients in minutes.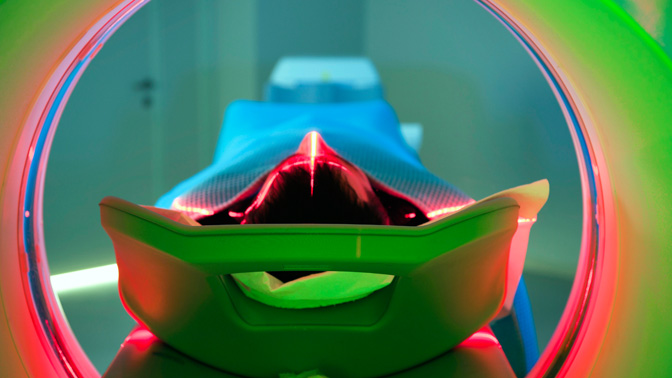 Radiation treatments are now being generated using artificial intelligence (AI) for prostate cancer patients at the Princess Margaret Cancer Centre. This advancement is the culmination of years of research led by medical physicist Dr. Tom Purdie and computer scientist Dr. Chris McIntosh of the Techna Institute, in collaboration with RaySearch Laboratories' in-house machine learning department.
Radiation therapy is required in approximately 40% of cancer cases. Each patient receiving radiation therapy needs a treatment plan, which must carefully balance the delivery of radiation to the tumour while minimizing the dose received by nearby healthy organs. Each patient's body shape and cancer are unique, so creating the plan traditionally requires a team of professionals working for hours or even days.
The AI planning system developed by Drs. Purdie and McIntosh dramatically reduces the time and associated costs required to generate radiation treatments: it can create a high-quality treatment plans in just minutes. The system uses AI that compares patients' medical images with a database of previously high-quality treatment plans created by experts at Princess Margaret. It can then use the information contained in the previous treatment plans to generate a new plan that is personalized to the patient. A preliminary study presented by radiation oncologist Dr. Alejandro Berlin, the clinical lead of the work, found that AI treatment plans were preferred or found equivalent to human-generated treatment plans that had been used for patient care in 88% of cases according to a panel of clinical experts.
The system is now being used to generate plans for patients under the direction of Dr. Berlin. Every patient with localized prostate cancer treated at the Princess Margaret Cancer Centre now has two plans created for them: one using the traditional manual system and another using the new machine-learning automated system. A physician reviews both plans, and chooses one for further review and quality assurance before it is used to guide radiation therapy for the patient.
For more information please see the press release from RaySearch Laboratories.