Home page Description:
Completion of cardiac rehab can help seniors with heart disease improve heart fitness.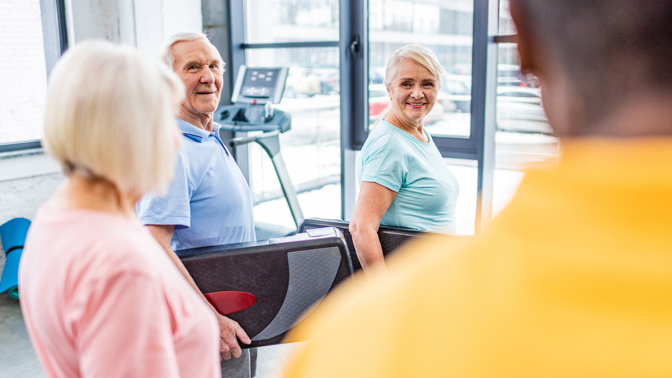 A new study from the cardiac rehab research team at Toronto Rehabilitation Institute and Peter Munk Cardiac Centre highlights the benefits experienced by older adults with heart disease who complete cardiac rehabilitation programs.
"Older adults are less likely to be referred to cardiac rehabilitation programs than younger adults," says KITE Senior Scientist and GoodLife Fitness Chair Dr. Paul Oh, "This is an unfortunate trend because our findings show that older patients do gain substantial improvements to heart fitness when they participate in these programs."
The study included data from 1,450 Canadian patients with coronary heart disease that completed a six month cardiac rehabilitation program. Heart fitness improvements were determined for different age brackets.
Of the findings, the lead author of the study Dr. Laura Banks, comments, "We found that 50 to 60 year-olds saw 30% improvement in cardiac fitness after the program while those in their 80s and 90s experienced 20% improvement. These gains are substantial enough to improve health."
Coronary artery disease is the second leading cause of death in Canada and the most common form of heart disease. These results highlight the need for adults of all ages to be encouraged to participate in these life-saving programs.
This work was supported by the Goodlife Fitness Centre for Excellence in Cardiovascular Prevention and Rehabilitation and the Toronto Rehab Foundation.
Banks L, Cacoilo J, Carter J, Oh [no-lexicon]PI[/no-lexicon]. Age-Related Improvements in Peak Cardiorespiratory Fitness among Coronary Heart Disease Patients Following Cardiac Rehabilitation. J Clin Med. 2019 Mar 5;8(3). pii: E310. doi: 10.3390/jcm8030310. PubMed PMID: 30841541.