Home page Description:
Drs. Arrowsmith, Davis, Khokha and Tsao inducted as Fellows to the Royal Society of Canada.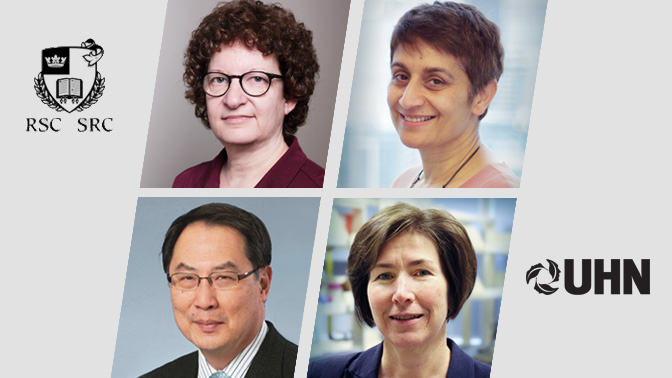 This year, the Royal Society of Canada has selected the following four UHN Researchers as 2020 Fellows: Drs. Cheryl Arrowsmith, Karen Davis, Rama Khokha and Ming-Sound Tsao.
This distinction is bestowed to Canadian scholars, artists and scientists who have made outstanding contributions in their field. All four scientists have extraordinary track records marked by original and ground-breaking discoveries.
Dr. Cheryl Arrowsmith, Senior Scientist at Princess Margaret Cancer Centre, is internationally recognized for her pioneering contributions to the multidisciplinary field of structure-guided drug discovery. As cofounder of a unique international public-private-partnership, the Structural Genomics Consortium, she leads its transformative Open Science program that is catalyzing the discovery of new medicines. Her research has developed, exploited and distributed thousands of unencumbered 'chemical probes' that are revolutionizing the creation of precision medicines for multiple diseases, especially cancer. Her work has led to authorship of over 340 scientific articles that have been cited over 30,000 times.
Dr. Karen Davis, Senior Scientist at Krembil Research Institute (Krembil), is a renowned neuroscientist whose research program is focused on exploring the brain mechanisms underlying chronic pain and traumatic injuries, pain-attention interactions, factors associated with treatment and recovery, and neuroethical issues related to the brain imaging of pain. She is currently the Research Division Head at Krembil and is a Professor in the Department of Surgery and the Institute of Medical Science at the University of Toronto. Dr. Davis has also been inducted into the Johns Hopkins Society of Scholars, the Canadian Academy of Health Sciences and is currently the President of the Canadian Pain Society (2020-2022). To date, she has published her work in over 190 papers that have garnered more than 20,000 citations.
Dr. Rama Khokha, Senior Scientist at Princess Margaret Cancer Centre, is internationally recognized for her work in tumour biology, particularly in the context of the tumour microenvironment and stem cell niches. Her research has advanced the development of molecularly targeted strategies to treat and prevent aggressive breast and bone cancers. Her work has laid the foundation for ongoing international clinical trials. Her many distinctions include the Canadian Cancer Society's prestigious Robert L. Noble prize and a Tier 1 Canada Research Chair in Adult Tissue Stem Cell Niches. Her influential work has culminated in over 150 peer-reviewed publications that have been cited over 19,000 times.
Dr. Ming-Sound Tsao, Senior Scientist and Pathologist at Princess Margaret Cancer Centre, is a leader in the field of translational lung cancer research. His research has led to the development of biomarkers for EGFR therapy in lung cancer and uncovered prognostic gene signatures that can predict which early stage lung cancer patients will benefit from adjuvant chemotherapy. He led the first translational biomarker study of the Canadian Cancer Trials Group, which showed that tumours with EGFR gene aberrations, including mutations responded better to an EGFR inhibitor. This contributed to current molecular testing practices for precision medicine in advanced non-small cell lung cancer. Dr. Tsao has received the Canadian Cancer Society's Harold Warwick Award and has been included in the global list of Highly Cited Researchers (2018, 2019) by Clarivate Analytics. His work is published in roughly 600 peer-reviewed articles that have garnered more than 71,000 citations.
Congratulations to Drs. Arrowsmith, Davis, Khokha and Tsao!