Home page Description:
Web of Science names nine influential UHN scientists as 'highly cited researchers'.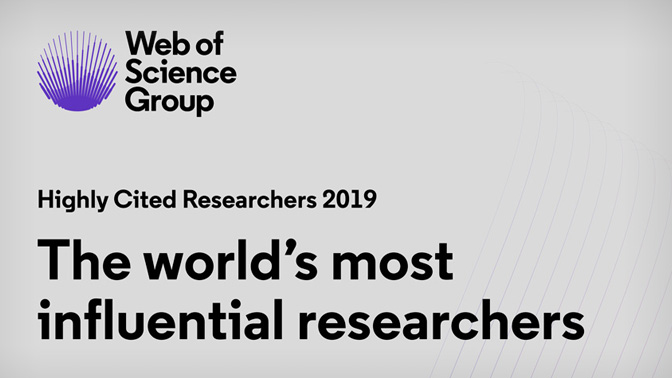 Nine UHN researchers were included among Web of Science's annual list of Highly Cited Researchers. The 2019 list recognizes 6,216 of the world's most influential researchers of the past decade across all fields, based on the publication of multiple highly-cited papers that rank in the top one per cent by citations for field and year. Because this selection method compares publications to those in the same discipline and year, it removes biases and provides a meaningful readout of impact.
Of the total number of Highly Cited Researchers, 2.9 per cent were Canadians. Congratulations to the following UHN scientists, who were recognized for their research impact and performance:
● Dr. Cheryl Arrowsmith, a recognized leader in cancer epigenetics and structural biology
● Dr. John Dick, a pioneer in cancer stem cells
● Dr. Anthony Lang, an expert in movement disorders
● Dr. Andres Lozano, a pioneer in deep brain stimulation and neurosurgery
● Dr. Tak Mak, a world leader in immunology and cancer
● Dr. Roger McIntyre, an established expert in cognitive impairments in mood disorders
● Dr. Trevor Pugh, an emerging world leader in clinical cancer genomics
● Dr. Frances Shepherd, a globally recognized leader in cancer clinical trials
● Dr. Ming-Sound Tsao, a leading authority in translational research for lung cancer
The data used to determine this global "who's who" list of influential researchers was analyzed by the Web of Science Group, a Clarivate Analytics company.
The full 2019 list can be found here.