Home page Description:
Read the latest bi-monthly newsletter that highlights latest advancements from UHN researchers.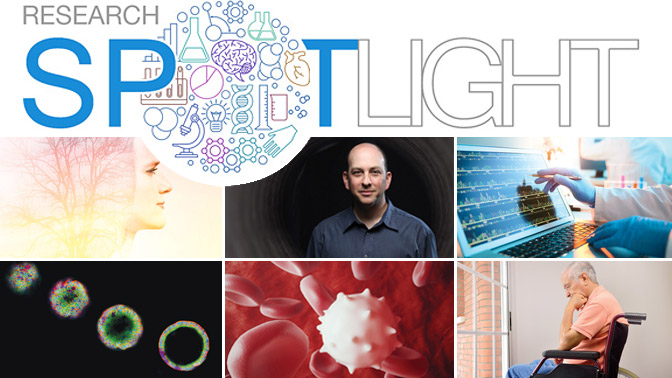 Announced on Dec 22, 2017
Welcome to the latest issue of Research Spotlight (formerly known as NRx).
This newsletter highlights top research advancements from the five research institutes and over 800 appointed researchers at UHN. As Canada's largest research hospital, UHN is a national and international source for discovery, education and patient care.
Stories in this month's issue:
● GENE VERSIONS MATTER: Modified versions of genes can be used to predict anti-cancer drug effectiveness.
● LIGHT AT THE END OF THE TUNNEL: UHN vision scientists discover potential neuroprotective treatment for glaucoma.
● SEEING INTO THE FUTURE: Researchers identify molecular changes in normal breast cells that are adjacent to cancers.
● MIND OVER MATTER: Fatigue and depression are significant barriers to recovery from a stroke.
● CELLS THAT SEARCH AND DESTROY CANCER: Rare T cells may represent a safe and effective treatment for chemotherapy-resistant leukemia.
● CELL THERAPY IN THE FAST LANE: New method could be used to coax adult cells into repairing and regenerating damaged tissues.
Read these stories and more online here. To read previous issues, see the newsletter archive.