Home page Description:
The 16th annual Krembil Research Day provides venue for trainees to present their findings.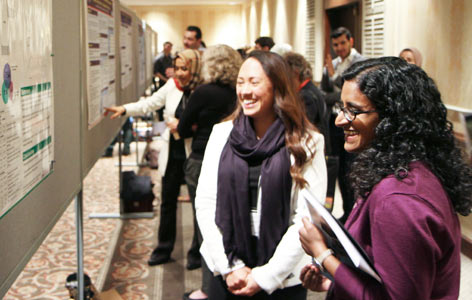 The 16
th
Annual Krembil Research Day was held on May 18, 2016 at the Chestnut Residence & Conference Centre. The event was commenced by Dr.
Christopher Paige
, UHN Executive VP, Science and Research; and Dr.
Donald Weaver
, Krembil Research Institute Director.  
The first presentation of the day was given by Dr.
Eugenia Kumacheva
, University Professor at the University of Toronto's Department of Chemistry. She described her research into microfluidic platforms for use in cell biology and medicine, which incorporates innovative and advanced single-cell culture approaches.  
Throughout the day, Krembil trainees shared their latest findings via a series of oral and poster presentations. Graduate student and Postdoctoral fellow categories for the top three oral and poster presentations were judged and later awarded (the results are
available here
--link accessible internally).  
The keynote speaker was Dr.
Betty Diamond
, Investigator and Head of the Center for Autoimmune & Musculoskeletal Diseases at The Feinstein Institute for Medical Research. She is a leading expert in the molecular and immunological factors that influence the pathogenicity of systemic lupus erythematosus (SLE). Her talk was titled "Antibodies and the Brain" and described her latest research on the role of anti-DNA antibodies in SLE and the potential mechanisms that lead to neurological symptoms of the disease.  
Save the Date
Next year's Krembil Research Day will be on
May 10, 2017
at the Chestnut Residence & Conference Centre (89 Chestnut Street in Toronto) and will feature a keynote address by Dr.
Eve Marder
(recipient of the 2016 Kavli Prize in Neuroscience).  
For more information or to provide feedback about the Krembil Research Day, please contact the
Krembil Administration office
.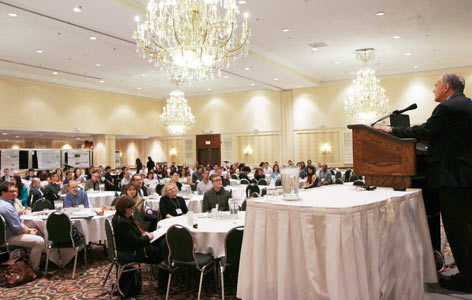 Dr. Donald Weaver provides opening remarks at the 2016 Krembil Research Day.