Home page Description:
This bi-monthly newsletter features the latest research advancements from UHN Researchers.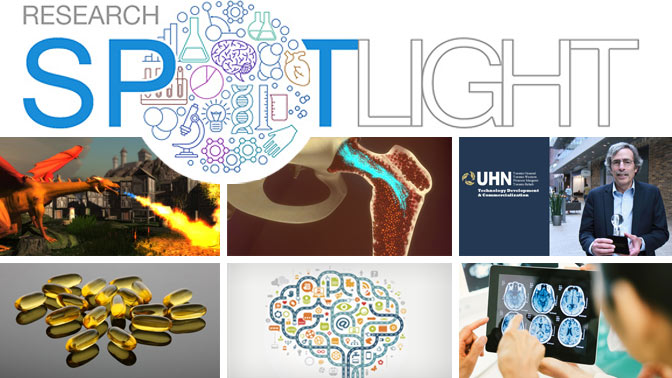 Announced on Aug 29, 2017
Welcome to the latest issue of Research Spotlight (formerly known as NRx).
This newsletter highlights top research advancements from UHN's five research institutes and over 800 appointed researchers. As Canada's largest research hospital, UHN is a national and international source for discovery, education and patient care.
See below for a list of stories in this month's issue.
● WHEN CANCER STRIKES TWICE: Tumours caused by previous treatments are found to be different from those occurring naturally.
● WORD PLAY: Researchers develop a computer game to rehabilitate speech in people with Parkinson disease.
● OMEGA-3 TO THE RESCUE: Study finds that omega-3 seal oil reverses nerve damage in the corneas of patients with diabetes.
● FALLING, REDEFINED: Researchers use an unconventional approach to develop a computer model that identifies falls.
● NO PAIN, NO GAIN: Pain reduces task performance in some individuals but enhances performance in others.
● FUTURE ASPIRATIONS: New blood test for cancer could replace painful bone marrow aspiration procedure.
Read these stories and more online here. To read previous issues, see the newsletter archive.