Home page Description:
UHN awarded $1.46M in cutting-edge infrastructure to support innovative research projects.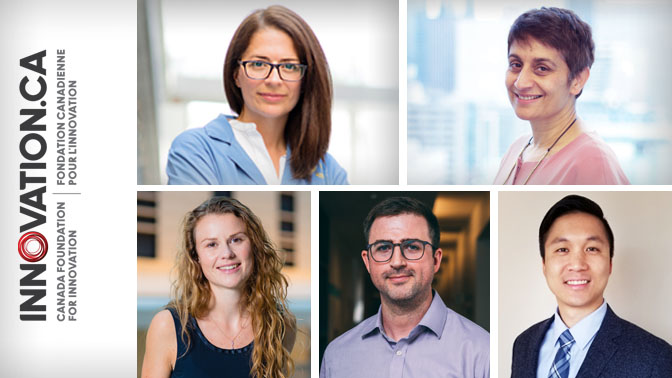 The Canada Foundation for Innovation (CFI) announced over $1.46 million in funding for advanced research infrastructure at University Health Network. These investments, provided through CFI's John R. Evans Leaders Fund, will support the following four projects at the Toronto General Hospital Research Institute (TGHRI), Princess Margaret Cancer Centre (PM) and the McEwen Stem Cell Institute (McEwen):
• Harnessing Regulatory Immune Cells to Promote Transplantation Tolerance. Led by TGHRI Scientist Dr. Sarah Crome, this project will investigate the function of a newly discovered population of cells that regulate the body's immune response and its role in organ transplantation. This research will refine our understanding of the root causes of transplant rejection and enable novel cell-based immunotherapies to be developed.
• Developing New Interventions for Breast and Lung Cancer. Led by PM Senior Scientist Dr. Rama Khokha and Clinician Scientist Dr. Benjamin Lok, this project will enable identification of molecular targets of breast cancer in women who are at higher risk of the disease in order to develop preventive treatment strategies (Dr. Khokha). The project will shed light on how cancer develops resistance to treatment by studying the underlying mechanisms of treatment resistance in the circulating tumour cells of lung cancer patients (Dr. Lok).
• DNA Damage and Cellular Physiology: Rewiring for a Cure. Led by PM Scientist Dr. Shane Harding, this project will enhance our understanding of how cells sense DNA damage, how they repair this damage and the consequences of these repairs. The overall goal is to design new interventions that selectively prevent cancer cells from repairing themselves without harming healthy cells.
• Generation of Stem Cell-Derived Pacemaker Cells for Biological Pacemaker Applications. Led by McEwen Scientist Dr. Stephanie Protze, this project aims to identify approaches for growing biological pacemaker cells—cells that could be used to develop a 'biological pacemaker' as a safer alternative to electronic pacemakers.
These funds are part of over $32M awarded to 40 universities that will support 261 infrastructure projects across Canada. The announcement was made on August 12 by the Honourable Kirsty Duncan, Minister of Science and Sport.
By providing key support for advanced research infrastructure, the John R. Evans Leaders Fund helps to attract and retain top talent, and enables the acquisition of equipment for new and/or existing research laboratories.
Congratulations Drs. Crome, Khokha, Lok, Harding and Protze!