Home page Description:
Krembil to host Gairdner Symposium on Alzheimer's disease for scientists and the public.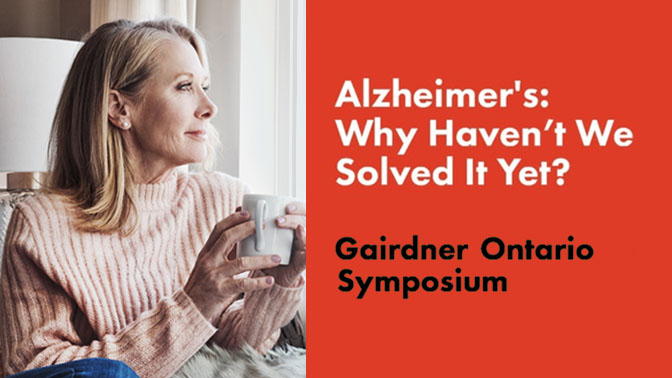 The Krembil Brain Institute is hosting a live virtual Gairdner Symposium on Alzheimer's Disease research on March 30-31, 2021.
The event is free to attend and open to the public.
Click here to register for the event. Graduate students, postdoctoral fellows and other learners are also invited to attend daily academic breakout sessions to interact with symposium presenters. To register for a breakout session, email krembil@uhnresearch.ca with your first and last name, position, current institution and top 3 speaker selections.
More than 700,000 Canadians live with dementia, including Alzheimer's disease, the most common type of dementia. In the absence of new innovations to treat or prevent dementia, this number is projected to reach nearly one million by 2030. Scientists have made significant strides in understanding Alzheimer's and identifying risk factors for developing the disease. Despite this, many questions remain unanswered.
This virtual Gairdner Symposium, which is being presented in partnership with Johns Hopkins University, will address some of these questions and make Alzheimer's research accessible to the public. The event will bring together internationally renowned leaders in Alzheimer's research and will be moderated by Jay Ingram, Canadian science communicator and author of 'The End of Memory'.
The symposium will feature presentations from eight Alzheimer's research experts: four from Canada and four from the United States. Speakers will discuss topics ranging from risk factors for Alzheimer's to the importance of diversity and inclusion in clinical studies of the disease. The symposium will also include daily panels during which presenters will answer questions submitted live by attendees.
"We are very excited to host this event," says Dr. Weaver, symposium Co-Chair and Co-Director of the Krembil Brain Institute. "This is an excellent opportunity to showcase Canadian research to international leaders in the field of Alzheimer's disease and share research advances with the public."
For more information about this event, contact Carley McPherson at carley.mcpherson@uhnresearch.ca.