Home page Description:
Study explores how the brain restores hand function after a hand transplant.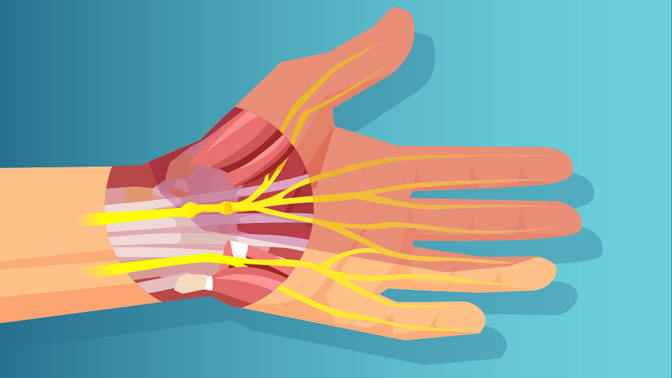 Hand transplantation is very rare because the procedure is highly complex. The first hand transplant surgery in Canada was performed in 2016 at the Toronto Western Hospital; it involved 18 surgeons and took around 14 hours to complete.
A research team at Krembil Research Institute had the opportunity to follow the patient's recovery journey after hand transplant surgery. The individual had a forearm and hand amputation ten years prior to receiving the transplant at UHN.
The findings were recently published in the journal Neurology by Krembil Senior Scientist Dr. Robert Chen and Clinician Investigator Dr. Steven McCabe. The exploratory study reveals that the brain changes and networks are rewired as the recipient gains function in the transplanted hand.
"The brain is remarkably flexible. By around a month after surgery, the recipient began to feel sensations from the transplant and could move the transplanted hand. By around half a year to one year, the recipient was able to use the hand to perform a variety of daily tasks," says Dr. McCabe.
The brain's outer layer of neural tissue―the cerebral cortex―is mapped to different parts of our body. These connections help to coordinate body movement and the sense of touch. To explore these connections after the transplant, the team used non-invasive diagnostic methods, including functional magnetic resonance imaging and transcranial magnetic stimulation, to determine how the brain-body map shifts and changes after surgery and during rehabilitation.
"We did not observe changes in the mapping of the cerebral cortex to the arm that did not receive surgery," says Dr. Chen. "Interestingly, the area of the cerebral cortex that is mapped to the arm that received surgery shifted to adapt to the transplanted hand, and this adaptation began before the recovery of hand function."
These observations suggest that the adaptions in the cerebral cortex shortly after surgery may be key to a successful recovery and the restoration of hand function after transplantation surgery.
This work was supported by the Canadian Institutes of Health Research and the Toronto General & Western Hospital Foundation.
Ni Z, McCabe S, Novak C, Baltzer HL, Jegatheeswaran G, Isayama R, Vesia M, Gunraj C, Saha U, Hallett M, Chen R. Plastic changes in the brain after human hand allotransplantation. Neurology. 2020 Sep 22. doi: 10.1212/WNL.0000000000010583.