Home page Description:
Generous $25 million donation enables creation of the Schroeder Arthritis Institute.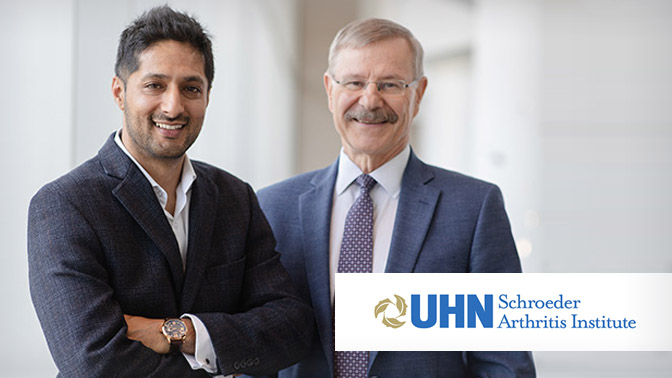 One in five Canadian adults is currently living with arthritis, a disease-causing inflammation of the joints, which can result in chronic, debilitating pain, reduced mobility and premature disability. Arthritis is the leading cause of disability globally.
To address this growing crisis, the Schroeder Arthritis Institute, launched with a $25 million donation by philanthropists Walter and Maria Schroeder, will help UHN's innovative arthritis program become a world-class hub for innovation in research, education and patient care.
Krembil Senior Scientists Dr. Robert Inman and Dr. Mohit Kapoor serve as Co-Directors of the Institute. Dr. Inman is a leader in field of ankylosing spondylitis and Dr. Kapoor's research program is focused on advancing our understanding of osteoarthritis.
"Maria and I have put a great deal of thought into making this gift and ultimately we were persuaded by the vision and leadership of Dr. Kapoor and the arthritis team at UHN," says Mr. Schroeder. "We want to be part of an effort that will finally put an end to unnecessary pain and suffering from arthritis and related conditions."
Funds will go toward supporting top scientific talent and providing critical salary and infrastructure resources for the entire research team, which includes 51 scientists and clinician-scientists, 113 trainees and 200 staff.
The Institute will encompass research, education and innovations in clinical activities within four clinical programs: Hand, Orthopedics, Osteoporosis and Rheumatology, with the core goal of pushing the boundaries of discovery, learning and patient care.
The Institute builds on the momentum of the arthritis team's progress in recent years, including innovations in surgical approaches for bone and joint diseases; new diagnostics and treatments in ankylosing spondylitis, lupus, osteoarthritis, osteoporosis, psoriatic arthritis, scleroderma and sjogren's syndrome; as well as the development of predictive tools for orthopaedic surgery outcomes. This donation will extend these achievements by enabling the arthritis team to have global impact through the development of early diagnosis, innovative treatments and prevention.
"Our unique approach, creating alignment and synergy between our research and clinical teams, can only serve to help translate discoveries faster, and benefit patients sooner," says Dr. Brad Wouters, Executive VP, Science & Research, at UHN. "This gift will help solidify UHN's status as the largest research hospital in Canada and as a leader in arthritis research and clinical care, globally."
To read more, click here.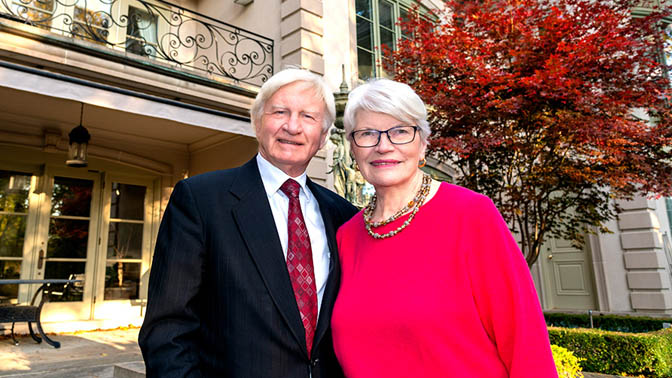 Walter and Maria Schroeder's generous $25 million donation will help UHN's innovative arthritis program become a world-class hub for innovation in research, education and patient care. (Photo by Cavouk)