Home page Description:
Dr. Keller has been named recipient of the prestigious 2019 Ogawa-Yamanaka Stem Cell Prize.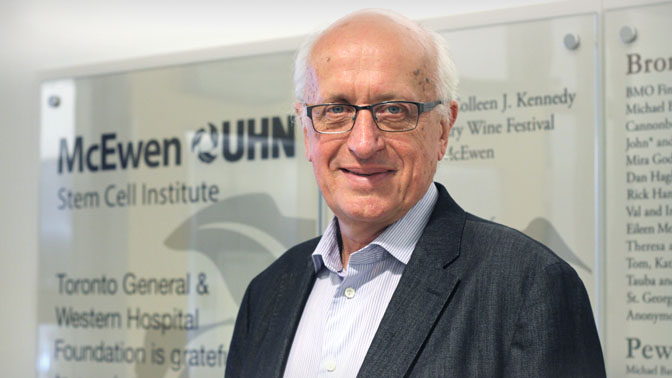 Dr. Gordon Keller has been selected to receive the 2019 Ogawa-Yamanaka Stem Cell Prize for his research on pluripotent stem cells.
He has been instrumental in developing ways to coax these cells to differentiate into therapeutically relevant cells, such as cardiomyocytes, hematopoietic cells and liver cells. He has also leveraged this work to develop new applications for regenerative therapeutics, drug testing and disease modelling.
"It is a privilege and honor to receive the distinguished Ogawa-Yamanaka Prize for my work on the directed differentiation of pluripotent stem cells," said Dr. Keller.
"I am fortunate to have had the opportunity to work in the field of stem cell biology for most of my career and to contribute to the translation of this science to the development of new therapies to treat human disease."
Dr. Keller was selected from a pool of highly competitive international candidates by a committee of leading stem cell experts. The award and prize valued at $150,000 will be presented to him at a ceremony in November 2019 at the Gladstone Institutes in San Francisco, California. As part of the event, he will present a lecture, which will be streamed live. To register to watch, click here.
Dr. Keller is the Director of UHN's McEwen Stem Cell Institute and a Senior Scientist at the Princess Margaret Cancer Centre. He is also a professor in the Department of Medical Biophysics at the University of Toronto and scientific co-founder of BlueRock Therapeutics Inc.
Congratulations Dr. Keller!
Source: Gladstone News