Home page Description:
Prestigious Canada Research Chairs awarded to Murray Krahn, Trevor Pugh and Michael Tymianski.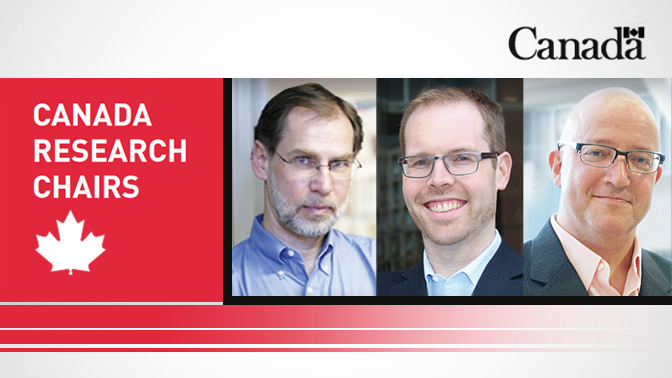 Announced on May 4, 2018
Congratulations to the following three UHN scientists, who received new or renewed funding from the Canada Research Chairs (CRC) program.
Dr. Murray Krahn, Tier 1 Canada Research Chair in Health Technology Assessment (new chair)
Dr. Krahn is a world leader in the assessment of health technologies. His research evaluates the effectiveness, safety, acceptability and cost-effectiveness of health services, technologies and drugs. His findings are used to inform provincial and federal health care decision making and policies—with the aim of making new, effective health technologies available to the public and saving costs by ensuring these resources are used effectively.
Dr. Trevor Pugh, Tier 2 Canada Research Chair in Translational Genomics (new chair)
Dr. Trevor Pugh's collaborative and clinically integrated research program aims to reveal new strategies to help the immune system destroy cancer cells—an approach known as immunotherapy. Using state-of-the-art genomic approaches, his team is creating molecular tests to predict and monitor immunotherapy efficacy.
Dr. Michael Tymianski, Tier 1 Canada Research Chair in Translational Stroke Research (renewal)
Dr. Tymianski is conducting a series of biological, preclinical and clinical investigations that could provide new therapies to prevent brain damage from stroke, and help those affected by other disorders where blood supply is restricted, such as a heart attack. His work has the potential to improve the quality of life for those who live with stroke symptoms, which can persist for a lifetime due to lasting brain damage.
The nationwide CRC program invests approximately $265 million per year to attract and retain Canada's most accomplished and promising researchers. Chairholders demonstrate research excellence, provide key insights, improve the quality of life for Canadians, strengthen competiveness and help train the next generation of researchers.