Home page Description:
Read the latest bi-monthly newsletter that highlights latest advancements from UHN researchers.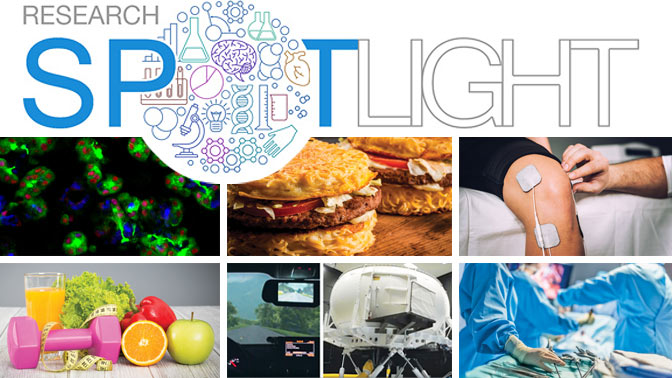 Announced on Oct 31, 2017
Welcome to the latest issue of Research Spotlight (formerly known as NRx).
This newsletter highlights top research advancements from the five research institutes and over 800 appointed researchers at UHN. As Canada's largest research hospital, UHN is a national and international source for discovery, education and patient care.
Stories in this month's issue:
● WITH A LITTLE HELP FROM THE GUT: Gut bacteria help the antidiabetic medication metformin lower blood sugar in rodents.
● MAKING CANCER SURGERIES SAFER: Concentrating high-risk cancer surgeries in designated hospital shortens hospital stays.
● PREDICTING OSTEOARTHRITIS SEVERITY: High-fat diets cause lasting changes in metabolism that may predict osteoarthritis severity.
● SHOCK YOUR SOCKS OFF: Alternative to compression stockings uses electric stimulation to prevent leg fluid buildup.
● HIGHER PURITY, GREATER SAFETY: Novel method developed at UHN could lead to safer stem cell-derived diabetes treatments.
● LET'S TALK ABOUT MEDICAL DEVICES: Improved physician reporting of medical device incidents requires more support from hospitals.
Read these stories and more online here. To read previous issues, see the newsletter archive.