Home page Description:
Book common equipment at Krembil, PM Cancer Centre and Toronto General through the new tool.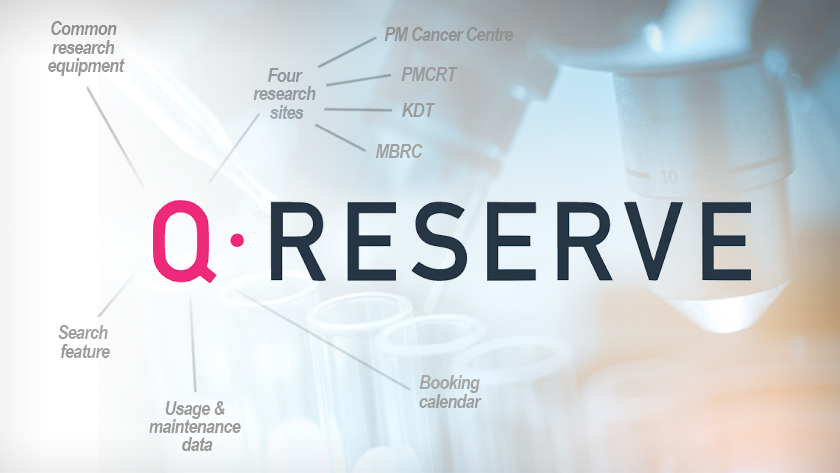 QReserve has been launched for the booking of common research equipment.
The tool enables users to search from over 300 pieces of equipment, which can be booked at the following four sites: Princess Margaret Cancer Centre (PMH), Princess Margaret Cancer Research Tower (PMCRT), Krembil Discovery Tower (KDT) and The Max Bell Research Centre (MBRC).
Using QReserve is easy, and members of TeamUHN can sign-in using their existing credentials. To sign up, click on the following link: https://access.qreserve.com/uhn [internal connection required]. Once signed in, users can access videos and guides on how to use the tool, such as show how to make a reservation or search for equipment.
QReserve replaces the previous equipment booking tool known as Stratocore, as the existing software was not able to meet Research Lab Services' requirements. It should be noted that Stratocore is still being used to book equipment at several UHN facilities and research innovation cores (ie, ARC, AOMF, BHPC, STTARR and FLOW). Examples of common equipment on QReserve include plate readers, bio-imaging systems, nanodrop spectrophotometers, centrifuges and water filtration systems.
See below for a list of features of QReserve:
● Ability to add custom questions, agreements and training requirements for reservation requests
● Easily track and book maintenance periods
● Filter calendars according to users and user groups.
● Ability to reach out to and message users in bulk directly from the platform
● Create rich user data to help guide strategic and maintenance decisions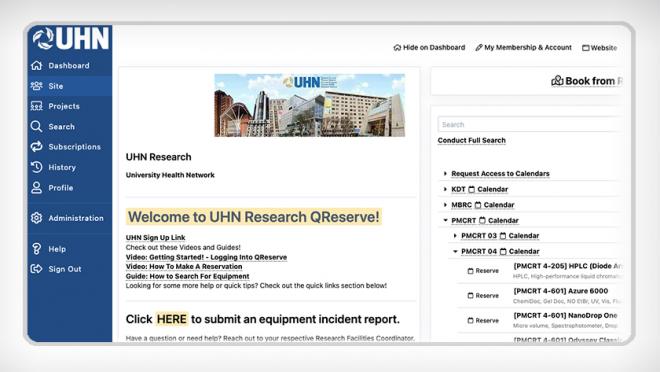 The dashboard enables users to search and book common equipment across four UHN research sites.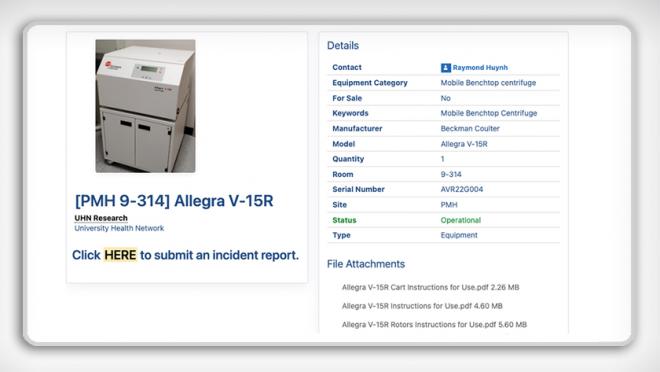 Users can annotate equipment with detailed information, including inventory notes, photos, model and manufacturer, status, user guides, locations, related equipment and more.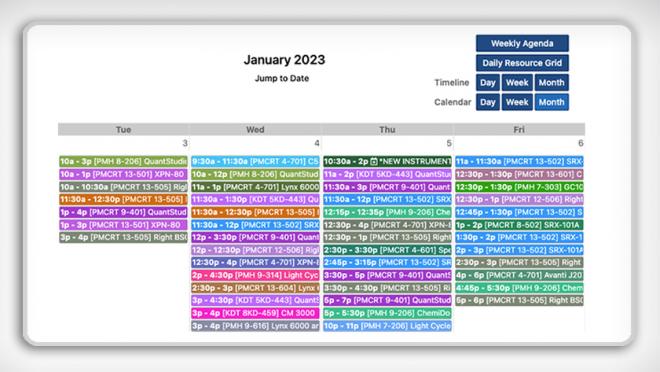 The calendar view shows equipment availability and frequency of use. Complex scheduling and workflow requirements can be accommodated, and booking can be done from desktop or mobile devices.
The Research Lab Services – Lab Operations team oversees QReserve, keeps records of service agreement contracts and administers preventative maintenance. If you have any questions, please reach out to the Research Facilities Coordinator at your respective site.