Home page Description:
UHN cancer researchers awarded prestigious Canadian Cancer Society awards.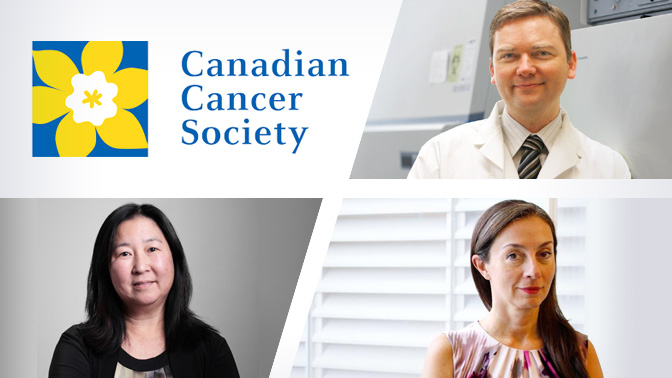 Announced on Sep 20, 2018
UHN researchers received two of the four major research awards from the Canadian Cancer Society.
Dr. Pamela Ohashi was honoured with the 2018 Robert L. Noble Prize, which is presented to an individual for outstanding achievement in basic biomedical research. Dr. Ohashi is considered one of the world's foremost leaders in advancing tumour immunotherapies and was recognized by the Society for her research into strategies to promote the immune system's ability to fight cancer.
Drs. Gelareh Zadeh and Rodger Tiedemann were the co-recipients of the 2018 William E. Rawls Prize, which is awarded to exemplary young investigators who are making important contributions to cancer control.
Dr. Zadeh is UHN's Head of Surgical Oncology and is an internationally recognized brain cancer researcher. Her high impact publications have garnered significant attention and have broken new ground in our understanding of the genetics of difficult-to-treat cancers.
Dr. Tiedemann is a highly respected hematologist and expert in multiple myeloma—a cancer of immune cells in the blood. His research examines genetic changes that occur in drug-resistant tumour cells in multiple myeloma.
Other UHN researchers that have previously received these prestigious awards from the Canadian Cancer Society include Drs. Rama Khokha, Mitsu Ikura, Brian Wilson, John Dick and Tak Mak (Robert L. Noble Prize); and Drs. Philippe Bedard, Camilla Zimmermann and Geoffrey Liu (William E. Rawls Prize).
Congratulations to Drs. Ohashi, Zadeh and Tiedemann!