Home page Description:
Dr. Lang wins the 2018 Weston Brain Institute International Outstanding Achievement Award.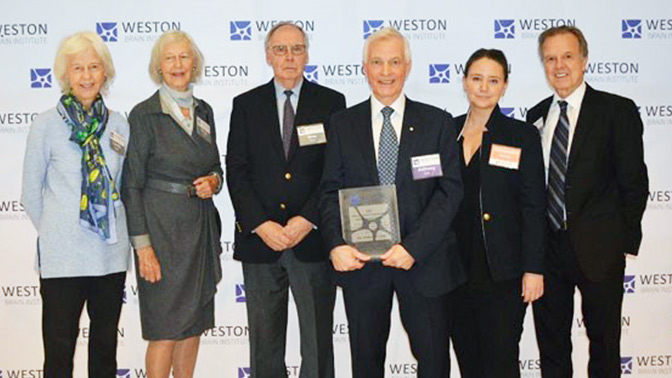 Announced on Jan 2, 2019
Krembil Senior Scientist Dr. Anthony Lang was presented with the 2018 Weston Brain Institute International Outstanding Achievement Award.
The award is valued at $40,000 and recognizes an exceptional researcher who has made significant advances in accelerating the development of therapeutics for neurodegenerative diseases of aging through translational research. The award also recognizes outstanding leadership contributions and citizenship in the research community. The prize was open to all researchers nationally and was provided by The W. Garfield Weston Foundation.
Dr. Lang is considered a world leader in movement disorders such as Parkinson disease (PD) and progressive supranuclear palsy (PSP), as evidenced by his more than 700 publications and 87,000 citations in the area.
He is a founding member of the Parkinson Study group, the largest worldwide network of PD clinicians focused on clinical trials for Parkinson's treatments. His work was critical in bringing several drugs to market for Parkinson disease. Dr. Lang has also been involved in developing cutting-edge therapeutic interventions for PD and PSP including implementing neuronal growth factors as neuroprotective agents, and neurosurgical interventions such as pallidotomy and deep brain stimulation. Another key contribution was his role as a leader in the creation of MDS-UPDRS, the most commonly used scale globally to help diagnose PD and PSP patients and to determine their stage of disease progression.
Other honours bestowed upon Dr. Lang include his role as President of the International Parkinson and Movement Disorder Society (MDS) from 2007-2009, his appointment as an Officer of the Order of Canada in 2010, his election as a Fellow of the Canadian Academy of Health Sciences and the Royal Society of Canada in 2011, and his selection as an Honorary Member by the MDS in 2014.
Congratulations Dr. Lang!