Home page Description:
UHN receives $18.3 million in funding from the Canada Foundation for Innovation.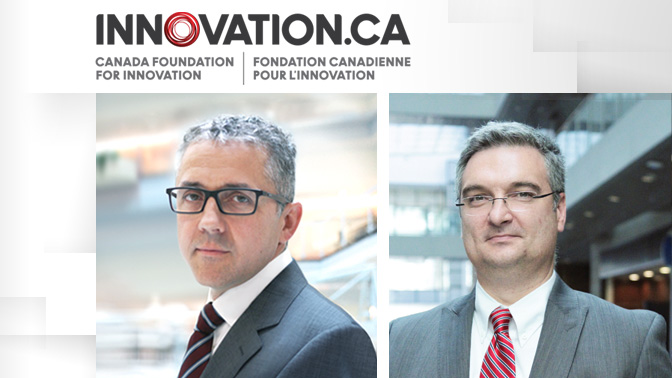 Announced on Oct 12, 2017
The Honourable Kirsty Duncan, Minister of Science, announced that the Canada Foundation for Innovation (CFI) will be investing $554 million to provide cutting edge research equipment to researchers across Canada.
Of these funds, UHN will be awarded $18.3 million for two projects: one to advance precision medicine for cancer and another to develop new therapeutics for neurological disorders.
"This funding will enable UHN to build upon our reputation for world-class research, enhance research capacity and strengthen partnerships across sectors," says Dr. Bradly Wouters, Executive Vice President, Science and Research at UHN, and Senior Scientist at PM Cancer Centre. "This state-of-the-art equipment will propel our research projects to the next level, so that we can ultimately deliver the best possible care."
The two UHN-led projects that received funding are as follows:
● The Princess Margaret Cancer Centre Precision Medicine Program
This project, led by Dr. Bradly Wouters, will enable researchers to profile tumours like never before: tumour cells from patients will be analyzed using a variety of advanced readouts (eg, genomics, transcriptomics, proteomics, single cell analysis, imaging, tumour biology and drug response). These readouts will be cross analyzed and linked to patient outcomes, enabling PM researchers to peer into the molecular makeup of cancer cells with unprecedented detail. With an investment of $11.8 million from CFI—the second largest award given to a single project in this competition—this project will ultimately enable the development of more effective cancer therapies that are better tailored to individual patients.
 
● The CenteR for Advancing Neurotechnological Innovation to Application (CRANIA)
This project, led by TRI Senior Scientist Dr. Milos Popovic, will receive $6.5 million to create advanced 'neuromodulation' therapies. These therapies work by stimulating specific brain regions involved in neurological diseases and conditions, such as epilepsy, depression, Alzheimer disease, Parkinson disease and spinal cord injury. CRANIA's researchers—including those at the University of Toronto and at UHN's Krembil Research Institute—will use the cutting-edge equipment to identify brain regions involved in disease, and develop and customize new 'smart' implantable devices to target these specific regions for therapeutic purposes.
UHN was involved in two additional projects: one was led by The Hospital for Sick Children's Dr. John Rubinstein, to establish a joint electron cryomicroscopy facility with Toronto-area institutions; and a second, led by the University of Toronto's Dr. Milica Radisic (who is also a TGHRI Affiliate Scientist), will develop novel 'organ-on-a-chip' models that will accelerate drug discovery efforts for a variety of diseases.
Congratulations to all UHN researchers and staff involved in these exciting projects.