Home page Description:
Learn about the latest news and research advancements from the Krembil Research Institute.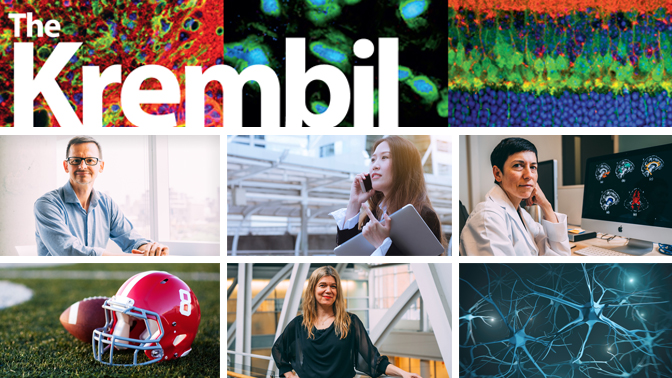 The Krembil is the official newsletter of the Krembil Research Institute (formerly the Toronto Western Research Institute). Research at Krembil is focused on finding innovative treatments and cures for chronic debilitating disorders, including arthritis and diseases of the brain and eyes.
Stories in this month's issue include:
● WILLKOMMEN TO KREMBIL: Visit by German AI delegation may spur new strategic collaborations with the institute.
● A PARTNERSHIP TO MAKE NEW MEDICINES: New drug discovery program launched is based on Krembil discovery. 
● TOP AWARD FOR NEUROSCIENTIST: Dr. Gabor G. Kovacs received international award for his research in neurodegenerative diseases.
● LEAVING THEIR MARK ON THE BRAIN: Repeated concussions in former athletes linked to high levels of tau protein.
● MAKING THE RIGHT CONNECTIONS: Researchers discover a new mechanism that regulates the development of brain networks.
● NEURAL CODE BREAKERS: Study highlights similarities between the nervous system and digital communication technology.
● GOING ABOVE AND BEYOND: Specially trained physiotherapists could help diagnose arthritis faster.