Home page Description:
Learn about the latest news and research advancements from the Krembil Research Institute.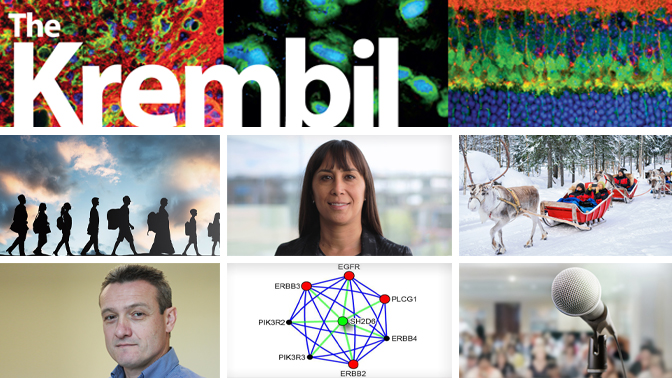 Announced on Feb 4, 2019
Welcome to the latest issue of The Krembil.

The Krembil is the official newsletter of the Krembil Research Institute (formerly the Toronto Western Research Institute). Research at Krembil is focused on finding innovative treatments and cures for chronic debilitating disorders, including arthritis and diseases of the brain and eyes.

Stories in this month's issue include:

● THE YEAR IN REVIEW: A message from Dr. Donald Weaver, Director of the Krembil Research Institute.
● PITCHING LIKE A PRO: Krembil will host a competition to help researchers better showcase their work to the public.
● ONE MUTATION SPANNING TWO COUNTRIES: What do Finns and Canadians have in common? A gene mutation that causes Parkinson disease.
● PUTTING LABELS ON PROTEIN BEHAVIOUR: UHN researchers expand database of interactions between proteins to accelerate drug discovery.
● LOCATION IS EVERYTHING: Better brain treatment targeting improves outcomes for individuals with essential tremor.
● SPARKING CURIOSITY: Research study provides new insight on what makes us more open to new experiences.

Read these stories and more online here. To read previous issues, see the newsletter archive.