Home page Description:
Learn about the latest news and research advancements from the Krembil Research Institute.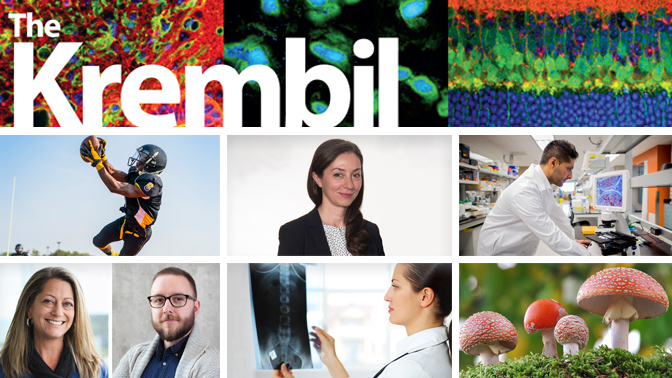 Welcome to the latest issue of The Krembil.

The Krembil is the official newsletter of the Krembil Research Institute (formerly the Toronto Western Research Institute). Research at Krembil is focused on finding innovative treatments and cures for chronic debilitating disorders, including arthritis and diseases of the brain and eyes.

Stories in this month's issue include:

● KREMBIL'S NEW COMMUNICATIONS TEAM: Meet the two new communications specialists who will help our researchers share their work.
● SHARING OUR STORIES: Two newly released publications showcase Krembil's research and achievements.
● GIVING OLD DRUGS A NEW LIFE: Researchers show that two drugs for fungal infections could help treat brain cancer.
● A HARBINGER OF SEVERE DISEASE: Back X-rays could help rheumatologists identify patients with severe psoriatic arthritis.
● BREATHING A SIGH OF RELIEF: Distinct group of nerve cells promote breathing after spinal cord injury.
● INTERCEPTING THE MESSENGER: Potential new treatment for osteoarthritis could stop knee and spine joint destruction.

Read these stories and more online here. To read previous issues, see the newsletter archive.