Home page Description:
Learn about the latest news and research advancements from the Krembil Research Institute.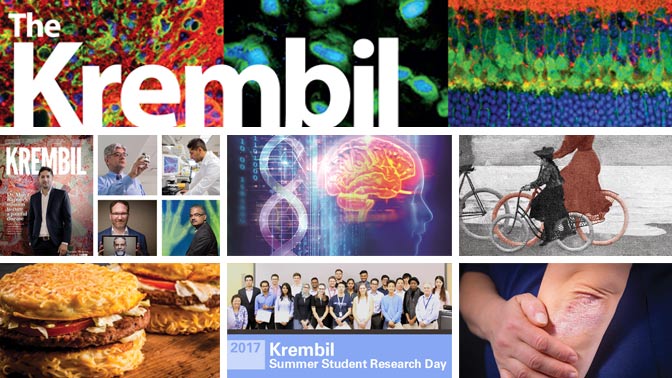 Announced on Sep 29, 2017
Welcome to the latest issue of the The Krembil .
The Krembil is the official newsletter of the Krembil Research Institute (formerly the Toronto Western Research Institute). Research at Krembil is singularly focused on finding innovative treatments and cures for chronic debilitation disorders, including diseases of the brain, spine, bones, joints and eyes.
Stories in this month's issue:
● ARTHRITIS RESEARCH IN FOCUS: Third Globe and Mail magazine highlights Krembil arthritis research success stories.
● SUMMER STUDENT RESEARCH DAY: Rapid fire talks highlighted Krembil advances in neuroscience, arthritis and vision research.
● FACING THE STRANGE CHANGES: Time and again, as new technologies hit mainstream, so do associated health concerns.
● VARIATIONS ON A GENE: Researchers identify gene variants that are associated with psoriatic disease.
● BREAKING EPILEPSY'S GENETIC CODE: Genetic tests could improve diagnosis and treatment in patients with unexplained epilepsy.
● PREDICTING OSTEOARTHRITIS SEVERITY: High-fat diets cause lasting changes in metabolism that may predict osteoarthritis severity.
Read these stories and more online here. To read previous issues, see the newsletter archive.