Home page Description:
Two UHN researchers recognized for exceptional contributions to cancer research.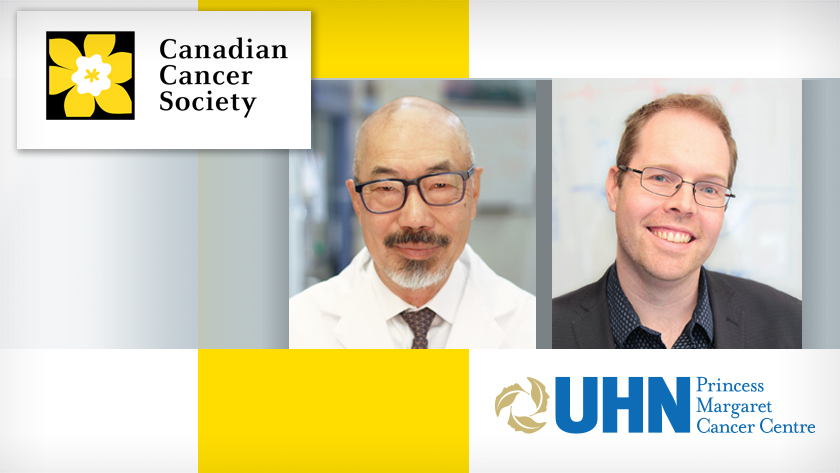 Annually the Canadian Cancer Society recognizes individuals who have made outstanding contributions to cancer research. This year, two researchers at the Princess Margaret Cancer Centre (PM) have received awards: Dr. Tak Mak received the 2021 Lifetime Contribution Prize; and Dr. Trevor Pugh received the 2021 Bernard and Francine Dorval Prize. 
2021 Lifetime Contribution Prize | Dr. Tak Mak, PM Senior Scientist 
This award is presented to individuals who have made extraordinary contributions to the cancer research landscape in Canada through their vision and leadership. Dr. Mak has been a prominent figure in the fields of immunology and molecular and cellular biology for over 40 years. He is best known for cloning the genes of the human T cell antigen receptor and using genetically modified mice to elucidate the function of the first immune checkpoint regulator, CTLA-4. His group's discoveries advanced our understanding of immune responses, paving the way for today's immunotherapies, including immune checkpoint blockade, CAR-T therapy and TCR-T therapy. Dr. Mak is the recipient of numerous awards, including the Paul Ehrlich Prize, the Szent-Györgyi Prize for Progress in Cancer Research, the Canada Gairdner International Award and the Canadian Cancer Society's Robert L. Noble Prize. He is also an inductee of the US National Academy of Sciences, the Canadian Medical Hall of Fame, the American Association for Cancer Research, and an Officer of the Orders of Ontario and Canada.  
2021 Bernard and Francine Dorval Prize | Dr. Trevor Pugh, PM Senior Scientist 
This award recognizes early career investigators who have made important contributions towards advancing our understanding of cancer and how to cure it. Dr. Pugh has published a number of a high-profile studies in translational cancer genomics research. Some of his major contributions include demonstrating the power of early and routine circulating tumour DNA testing to predict and monitor response to cancer immunotherapy, inventing a hybrid-capture method for immune repertoire profiling, and developing genome technologies and software to support clinical genomic testing. These achievements have been recognized through various distinctions, including being named one of Canada's Top 40 Under 40; and receiving a Terry Fox New Investigator Award and the StandUp2Cancer Philip A. Sharp Award for Innovation in Collaboration. 
"At the Canadian Cancer Society, we believe that nothing has and nothing will change the face of cancer more than research, and the work of Dr. Tak Mak and Dr. Trevor Pugh embody that. We are proud to recognize their tremendous contributions to advancing cancer research around the world as well as their commitment to ensuring that the outcomes of their research directly benefit people with cancer. Thanks to researchers like Dr. Mak and Dr. Pugh, we are transforming the future of cancer," says Dr. Stuart Edmonds, Executive Vice President, Mission, Research and Advocacy. 
Each awardee will receive $20,000 to support their research program.  
Congratulations Drs. Mak and Pugh!