Home page Description:
Explore the intricacies of the human brain in a free Gairdner Global Perspectives Panel.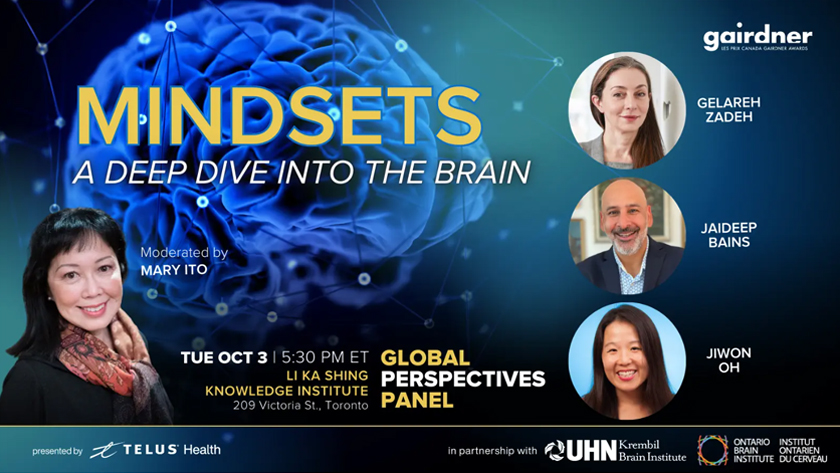 Join us on October 3, 2023 for the Gairdner Global Perspectives Panel event "Mindsets: A Deep Dive Into the Brain".
Event details
● Date: October 3, 2023
● Time: 5:15 - 7:00 PM
● Location: Li Ka Shing Knowledge Institute, 209 Victoria St, Toronto, ON, M5B 1T8
● Registration: https://bit.ly/Mindsets_Deep_Dive_Into_Brain
Hosted in partnership with the Krembil Brain Institute and the Ontario Brain Institute, and presented by TELUS Health, this event promises to be a thought-provoking journey into the intricacies of the human brain and some of the conditions that affect it, from cancer and multiple sclerosis to stress.
The free public lecture will feature talks from three distinguished Canadian neuroscientists:
● Dr. Gelareh Zadeh, Co-Director of Krembil Brain Institute and Senior Scientist at Princess Margaret Cancer Centre, will unravel the complexities of brain tumours;
● Dr. Jaideep Bains, Co-Director and Senior Scientist at Krembil Brain Institute, will discuss the impact of stress on brain cells and their connections; and
● Dr. Jiwon Oh, Medical Director of the Barlo Multiple Sclerosis Program at St. Michael's Hospital, will share her research into multiple sclerosis and how to treat it.
The event will culminate in a panel discussion moderated by Canadian broadcast journalist Mary Ito.
"We are very excited to help host this event to share cutting-edge research with the public," says Dr. Jaideep Bains, Co-Director of the Krembil Brain Institute. "This is an excellent opportunity to showcase discoveries and the breadth of brain research that is being done in Canada."
For more information about this event, click here.