Home page Description:
Five UHN research trainees receive awards from the Arthritis Society this year.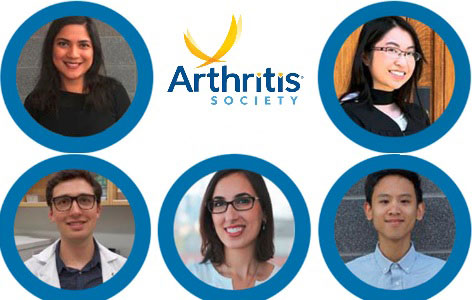 Announced on Dec 13, 2018
By: Shabana Amanda Ali, UHN Trainee and ORT Times Writer
The Arthritis Society is Canada's largest non-profit organization supporting education, services and research in arthritis. Given that one in five Canadian adults have arthritis, this chronic condition represents a major public health concern. The vision of the Arthritis Society is "to live in a world where people can be free from the devastating effects that arthritis can have on lives." To achieve this, their mission is "to invest in cutting-edge research, proactive advocacy and innovative solutions that will deliver better health outcomes and an improved quality of life for people affected by arthritis." Each year the Arthritis Society holds a highly competitive peer-reviewed research competition for PhD students and postdoctoral fellows engaged in arthritis research.
When the results of this year's Canada-wide competition were announced, UHN trainees emerged as front-runners, receiving five of the 12 awards. All five trainees are part of the Arthritis Program at the Krembil Research Institute, where bone and joint disorders are one of the primary research areas of focus. In recognition of this achievement for UHN, the co-founder of the Campaign to Cure Arthritis, Mr. Anthony (Tony) Fell, invited the five award recipients to the Toronto General & Western Hospital Foundation's 'Partners for Discovery' Annual Members Dinner. The ORT Times caught up with each one of the trainees to ask about their award-winning research and the circumstances that made their success possible.
PhD Salary Award Recipients
Mable Wing Yan Chan: My project aims to understand the role of immune cells known as macrophages in osteoarthritis and how to reprogram these cells to halt, instead of contribute to, disease progression. Working with Dr. Sowmya Viswanathan and our orthopaedic surgery team allows me to access patient osteoarthritic cells and tissue, thus gaining insight into the true human immune condition.
Kevin Robb: My thesis project is to develop priming strategies that will enhance mesenchymal stromal cells for treatment of osteoarthritis. I am privileged to be working under the supervision of Drs. Sowmya Viswanathan and Rajiv Gandhi, within the highly supportive and collaborative Arthritis Program.
Brian Rai-Ling Wu: My research seeks to understand how specific interactions between ephrin B2 and its receptor can influence the development and progression of early stage tissue fibrosis. As a trainee working under Dr. Mohit Kapoor for almost five years, I can confidently say that our lab supports the inquisitive mind and is rigorous in applying the scientific method.
Meital Yerushalmi: My thesis investigates the role of the skin microbiome in psoriasis and psoriatic arthritis, an inflammatory joint disease associated with psoriasis. I am fortunate to work in the clinic and lab of the Psoriatic Disease Program, which provides me a unique opportunity to conduct translational research with Dr. Vinod Chandran.
Postdoctoral Fellowship Recipient
Shabana Amanda Ali: My research uses next generation sequencing to identify novel biomarkers in patients with early stages of knee osteoarthritis. With the resources of the Arthritis Program and the mentorship of Drs. Mohit Kapoor and Rajiv Gandhi, I believe I'm in the best training environment to make a difference in arthritis care. 
The ORT Times congratulates each award recipient!