Home page Description:
Dr. David Cescon is honoured with an award for his research in cancer drug development.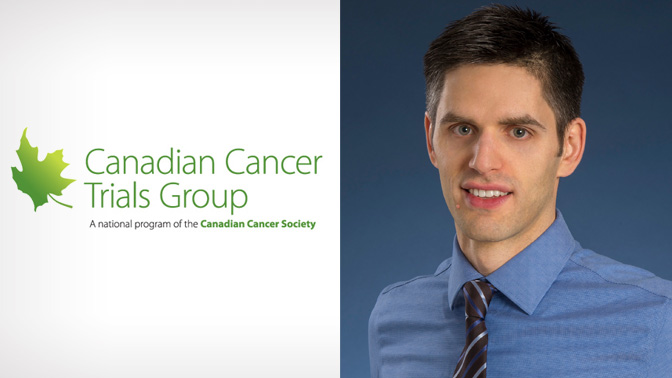 Announced on Jun 2, 2017
PM's Dr. David Cescon received the 2017 Dr. Elizabeth Eisenhauer Early Drug Development Young Investigator Award from the Canadian Cancer Trials Group. The award is presented annually to early career researchers who work on projects within the Investigational New Drug (IND) Program or those who contribute significantly to the conduct of a cancer clinical trial involving INDs.
The IND Program carries out clinical trials of experimental cancer agents that are in their early stages of clinical development. These trials are necessary to characterize the safety of the drugs and test their anti-cancer activity to determine whether larger trials are warranted.
To this end, a major focus of Dr. Cescon's research is the development of two novel agents for breast cancer, called CFI-400945 and CFI-402257, which were discovered and are being developed by the UHN Therapeutics Group at the Campbell Family Institute for Breast Cancer Research. These drugs will be tested in breast cancer clinical trials in collaboration with the Canadian Cancer Trials Group's IND Program, as part of the Stand Up to Cancer Canada/Canadian Breast Cancer Foundation Breast Cancer Dream Team project.
In addition to his clinical research activities, Dr. Cescon is a laboratory scientist and Medical Oncologist at PM, where his work is focused on the treatment of women with triple-negative breast cancer, an aggressive subtype of the disease.
Congratulations to Dr. Cescon!