Home page Description:
Learn how UHN researchers are breaking barriers to improve health care.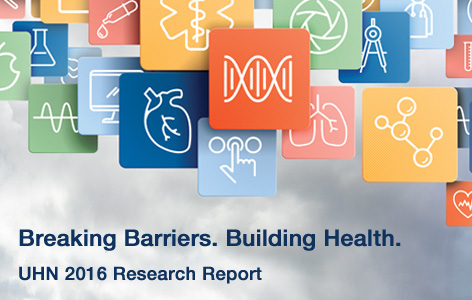 Sharing knowledge for better health.

That's the key message in UHN's 2016 Research Report.

Through exciting stories and visually stimulating graphics, this report illustrates the ways in which UHN researchers are sharing information and integrating their unique skillsets to improve our ability to treat human disease.

The report features a selection of last year's most important discoveries, which gave insight on how proteins guide nerve development in brain vision centres; elucidated the mechanism through which DNA-modifying cancer drugs work; provided evidence that clowning enriches the lives of people with dementia; demonstrated the efficacy of a new imaging approach; and revealed the origin of cells that contribute to the development of heart disease.

It also demonstrates—through funding successes, innovative applications of research findings and UHN foundation stories—what our talented researchers, trainees and staff can accomplish when they work together.​

Click here to read the report.