Home page Description:
Honouring one of Canada's extraordinary benefactors.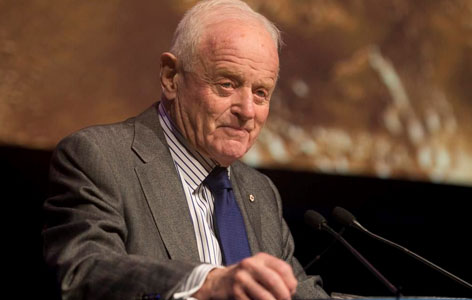 By: Candice Tang,  ORT Times Science Writer and UHN Trainee
Earlier this year, one of Canada's greatest philanthropists passed away at the age of 90.
Peter Munk was a Hungarian-born businessman who left an unforgettable mark on Canada with his contributions to the real estate, gold and health care industries. He was the founder of Barrick Gold Corporation, the largest gold mining company in the world, whose market value stood at $22.3 billion in May 2017. In addition to his lucrative business ventures, he was known for his generosity and philanthropy.
The Peter and Melanie Munk Charitable Foundation invests in Canadian and international institutions that improve health care, support higher education and build on public policy. The Munk School of Global Affairs at the University of Toronto, the Technion Institute of Technology in Israel and the Peter Munk Cardiac Centre (PMCC) at UHN are among the recipients of donations totaling over $300 million.
PMCC opened in 1997 at Toronto General Hospital and is known as a world-class cardiac research, care and treatment centre. The centre is home to seven Centres of Excellence, each specializing in a research area associated with six main cardiovascular diseases. A combination of world-class experts, state-of-the-art facilities and excellence in care has led to many "world firsts," including the first transcatheter aortic valve implantation surgery performed on an elderly patient without general anaesthesia. PMCC is also home to the first and largest adult congenital heart disease program in the world. These cutting-edge facilities have made Peter Munk an icon at UHN.
Shortly before his passing, the Munks donated $100 million to PMCC, making it the single largest gift to a Canadian hospital in history.
On top of his contributions to healthcare and to Toronto General Hospital, Peter Munk was a true patriot. He often thanked Canada for giving him new opportunities after surviving World War II as a young adult. In a direct quote from the Toronto Star, he said:
"'When you thank me for what I've done for Toronto, and you thank me for what I can do for this community, it doesn't begin to express my immense gratitude for what this country has done for me and my family. You opened the door. You gave us everything.'"
It is hard not to feel a sense of pride when we think of Peter Munk. His generosity and spirit will continue to drive excellence in research at UHN and his legacy will live on to inspire future trainees.