Home page Description:
Another year of excellence in research at TGHRI.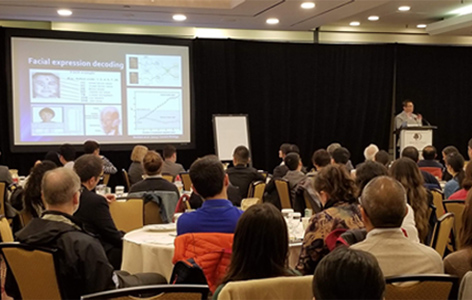 By: Goodness Madu, TGHRI Graduate Student and Conference Attendee
The research performed at the Toronto General Hospital Research Institute (TGHRI) in the past year was celebrated at the TGHRI Research Day held on October 9, 2019.
Dr. Bradly Wouters, the Executive Vice President, Science and Research at the University Health Network (UHN), commenced the big day by highlighting the scope and breadth of UHN's seven research institutes. Next, Dr. Mansoor Husain, the Director of TGHRI described the achievements of the Research Institute within the last few years. Notably, a third of the articles published by TGHRI researchers are amongst the most cited globally, and several TGHRI researchers received prestigious international awards in the past year.
The keynote speaker, Dr. Kang Lee, took the audience on a captivating journey through the development of his transdermal optical imaging technology. His discoveries are incorporated into DeepAffex, an affective artificial intelligence technology that can monitor facial blood flow to determine psychological and physiological parameters such as mental stress and heart rate without contact. In the first oral presentation session, Drs. Shabbir Alibhai and Karen Okrainec touched on geriatric oncology and patient transition from hospital to home, respectively. Next, Dr. Satya Dash spoke of the genetic intersection of obesity and neuropsychiatric disorders, and Dr. York Pei presented his work showing that the drug Salsalate is a potential intervention for slowing down the progression of polycystic kidney disease. Finally, the last oral presentation session featured Drs. Marc de Perrot and Mingyao Liu on drug therapy for patients in the respiratory and critical care department.
The research trainees of TGHRI were also showcased. This year, 67 abstracts were submitted and 15 were selected for one-minute flash presentations. The posters highlighted the cutting-edge work of research trainees spanning a wide range of topics including metabolism, oncology, neuropsychiatric diseases and cardiac/respiratory care. Homaira Hamidzada received an award from the Toronto Innovation Acceleration Partners for research with a high commercialization potential.
Thank you to the administrative team for another successful TGHRI Research Day and congratulations to the award recipients. We anticipate great heights for next year's research day!
Postdoctoral Fellow Award Recipients
Dr. Mark B. Badrov (Supervisor: Dr. John Floras)
Dr. Tsukasa Ishiwata (Supervisor: Dr. Kazuhiro Yasufuku)
Dr. Corey Scipione (Supervisor: Dr. Myron Cybulsky)
Dr. Tharini Sivasubramaniyam (Supervisor: Dr. Clinton Robbins)
Dr. Akihiro Takahagi (Supervisor: Drs. Shaf Keshavjee and Stephen Juvet)
Poster Award Recipients
Homaira Hamidzada (Supervisor: Dr. Slava Epelman)
Rafael Neve Miranda (Supervisor: Dr. Beate Sander)
Laura Oliva (Supervisors: Drs. Lusine Abrahamyan and Eric Horlick)
Kyle Reid (Supervisor: Dr. Sarah Crome)
Toronto Innovation Acceleration Partners award
Homaira Hamidzada (Supervisor: Dr. Slava Epelman)