Home page Description:
Celebrating another year of research excellence.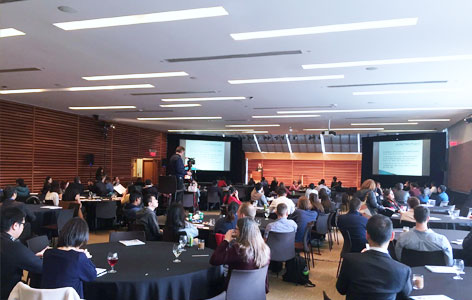 By: Candice Tang, UHN Trainee and ORT Times Writer
The hard work and incredible research at the Toronto General Hospital Research Institute (TGHRI) were celebrated at the annual TGHRI Research Day on October 17, 2018 held at the Toronto Reference Library.
Thanks to the members of TGHRI's leadership and administration teams, attendees were treated to speakers, poster sessions, and networking opportunities. Dr. Mansoor Husain, Director of TGHRI for 21 years, kicked off the day by congratulating everyone on a successful year that included new hires, promotions, and celebrating 3000 research publications over the last 5 years. He encouraged both researchers and trainees to continue applying for tri-council funding despite increasing competition, to ensure the boldest and most innovative research gets funded.
The day featured two keynote speakers, Dr. Florent Ginhoux from the Singapore Immunology Network Agency for Science, Technology and Research and Dr. Reinhart Reithmeier from the Department of Biochemistry at U of T. Dr. Ginhoux presented his work on distinct subsets of macrophages and dendritic cells, key players in the immune response. He took the audience on a deep dive into immune cell development, emphasizing that studying immature precursor cells is equally as important as studying mature, fully differentiated cells.
Dr. Reithmeier focused his talk on the employment outcomes of PhD students from his 10,000 PhDs project. A majority of PhD students abandon their dream to become a tenure-track professor, opting instead for careers in government, banking, industry, and technology.
Attendees also heard from many distinguished researchers at TGHRI. Dr. Cedric Manlhiot, Director of the Cardiovascular Data Management Centre at U of T, opened a discussion about the challenges in digitizing health care and how his team is harnessing machine learning and artificial intelligence to create a "data lake" for hospital staff to access patient information. Dr. Stephanie Protze recently started her own lab, where she expands on her post-doctoral work with Dr. Gordon Keller. She continues to study the pacemaker cells of the heart, which initiate and maintain a regular heartbeat, and intends to one day replace the electronic pacemaker with a biological one.
Between the talks were 1-minute, 1-slide pitches from trainees who submitted posters for viewing and judging. Selected trainees had one minute and one slide to convince attendees to visit their poster and learn more about their research. This year, 74 abstracts were accepted, filling the main room and hallway with posters depicting the most cutting-edge research. Congratulations to all participants at this year's poster competition and thank you to all members of TGHRI for making this day a huge success!
Poster Competition 1st place winners
1. Luke Dingwell (supervised by Dr. Mansoor Husain)
2. Narhari Timilshina (supervised by Dr. Shabbir Alibhai)
3. Ioulia Vorobieva (supervised by Dr. Eldad Zacksenhaus)
Poster Competition 2nd place winners:
1. Sebastian Acosta (supervised by Dr. Lena Serghides)
2. Sarah Dick (supervised by Dr. Slava Epelman)
3. Dakota Gustafson (supervised by Dr. Jason Fish)
4. Frankie Poon (supervised by Dr. Cristina Nostro)
5. Mariusz Shrestha (supervised by Dr. Eldad Zacksenhaus)
TGHRI PDF Awards:
1. Dr. Takuo Emoto (supervised by Dr. Clint Robbins)
2. Dr. Azadeh Yeganeh (supervised by Dr. Ren-Ke Li)
3. Dr. Sergi Clotet Freixas (supervised by Dr. Ana Konvalinka)
4. Dr. Khalil Udwan (supervised by Dr. Moumita Barua)