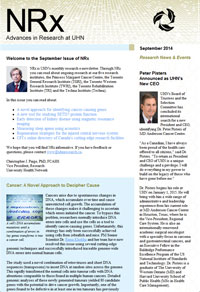 Announced on Sep 8, 2014
The September issue of NRx is now available. This monthly e-newsletter highlights the latest research from UHN's five research institutes.
In this issue you can read about:
> A novel approach for identifying cancer-causing genes

> Early detection of kidney disease using magnetic resonance imaging

> A new tool for studying SETD7 protein function

> Measuring sleep apnea using acoustics

> Regeneration strategies for the injured central nervous system

> CFI's online directory of Canada's cutting-edge research facilities

Other stories include UHN's new CEO and Krembil Discovery Tower gets recognized for its architectural aesthetic.

Read these stories and more in the September issue, online here. To read other issues, see the NRx Archive.