Home page Description:
On May 13th explore STEM with your family at UHN and Sinai Health's science festival.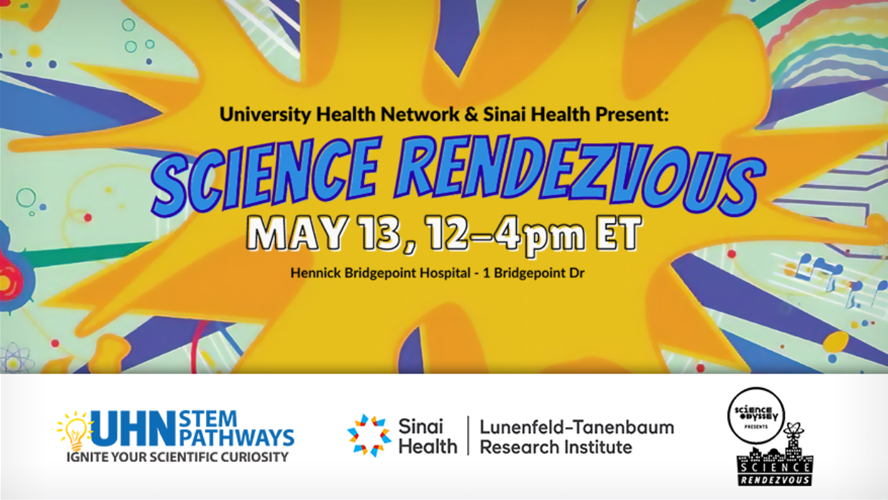 UHN STEM Pathways is excited to invite TeamUHN to their flagship event: Science Rendezvous.
On Saturday May 13th, UHN and Sinai Health will be hosting an in-person science festival at Hennick Bridgepoint Hospital. The event is free and open to everyone. Families will be able to participate in hands-on science activities that are hosted by UHN staff and trainees. Activities will be suitable for all ages.
There will be activity booths from each UHN Research Institute and Michener, as well as from Sinai Health. Attendees will get to learn about DNA and how to extract it, how to pipette like a scientist, how 3D printing works, how to intubate a patient and more!
Event Details
> Date at time: Saturday May 13, 2023 @12 – 4pm
> Location: Main floor auditorium, Hennick Bridgepoint Hospital, 1 Bridgepoint Drive, Toronto, ON, M4M 2B5
> Attending the event: Free and open to all; no registration required
Science Rendezvous is a not-for-profit organization dedicated to bringing exciting research and STEM (Science, Technology, Engineering and Mathematics) experiences and programming to the public. The Science Rendezvous namesake program is an annual, free, and family friendly festival that brings science from the lab to the street.
For more information about the event, including parking details and directions, visit the Science Rendezvous event page.
We hope to see you there!
If you have any questions, please contact the UHN STEM Pathways Team at stempathways@uhn.ca or (437) 928-8105.