Home page Description:
UHN-invented imaging technology gains approval for use in the United States.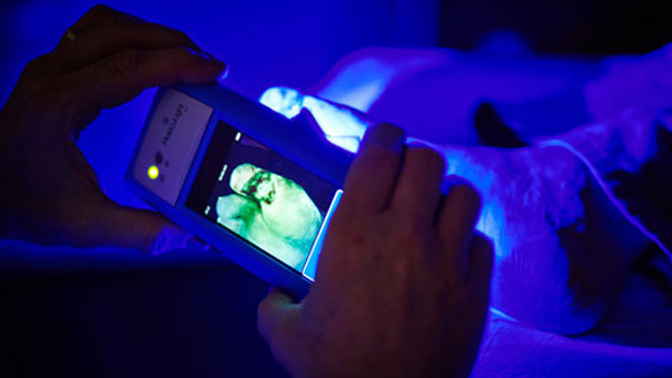 Announced on Sep 5, 2018
UHN spin-off company MolecuLight Inc. has achieved a major regulatory milestone: its innovative wound-imaging device is now approved for use in the United States.
The device—developed by Dr.
Ralph DaCosta
, Scientist at Princess Margaret Cancer Centre and Research Faculty at Techna Institute—captures fluorescence information using images of videos that reveal where bacteria are located in wounds and surrounding tissue. The device is compact and portable and does not require the application of imaging agents, which makes it convenient to use. 
Chronic wounds resulting from hospital-acquired infections are an epidemic for those with diabetes and are a growing part of the complex health issues faced by an aging population. New strategies to monitor these infections are needed to relieve the growing burden of chronic wounds on patients, health care providers and health care systems.  
"The MolecuLight i:X platform is a significant advancement in the management of chronic wounds that is already revolutionizing wound care practice in Canada and Europe," says Dr. DaCosta, Founder, Chief Scientific Officer and Director of MolecuLight Inc.
"Thousands of patients to date have already experienced a change in their assessment and treatment by clinicians who feel empowered by the wound fluorescence images they are seeing. As reported in published multi-centre clinical studies, clinicians used the images to inform their wound management practices in real time, in particular, for guided wound sampling, cleaning and debridement," says Dr. DaCosta. 
"We're very excited that US clinicians will soon have the same access to this device as their peers in Canada and Europe."
This is story was adapted from content on 
UHN.ca
.